US B-1B bomber in attack drill show of force to North Korea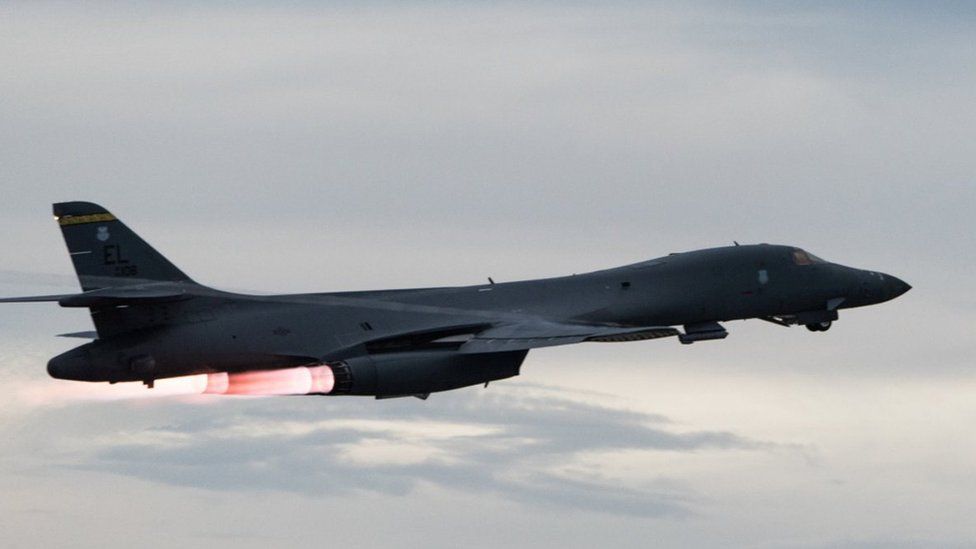 The US military has flown a B-1B bomber over South Korea as part of a massive joint aerial drill, in a move seen as a warning to the North.
The B-1B Lancer plane simulated bombing a military field.
The US has previously deployed bombers as a show of force after North Korean missile or nuclear tests.
South Korea's military said the US bomber took part in the simulation with US and South Korean fighter jets.
It took place at the Pilsung range in north-eastern Gangwon province, about 150km (93 miles) from the border with North Korea, reported Yonhap news agency citing the military.
More than 200 planes and thousands of troops are involved in the Vigilant Ace aerial exercise, which ends on Friday and had been planned before North Korea's latest missile launch.
Pyongyang, which routinely condemns US-South Korea's joint military exercises as rehearsals for war, called the latest drill "nuclear war provocation moves" in state media on Monday.
Tensions have been running high since the missile launch late last month, which triggered international condemnation and a warning from the US that the North Korean regime would be "utterly destroyed" if war broke out.
South Korea's military also plans to launch a combat unit of weaponised drones called "dronebots" next year, Yonhap reported quoting an unnamed official.
The "dronebots" would conduct reconnaissance on core North Korean targets such as nuclear and missile sites, and could also launch attacks, though the report did not give further details on how this could be done.