Apple removes Philippines leader Duterte execution games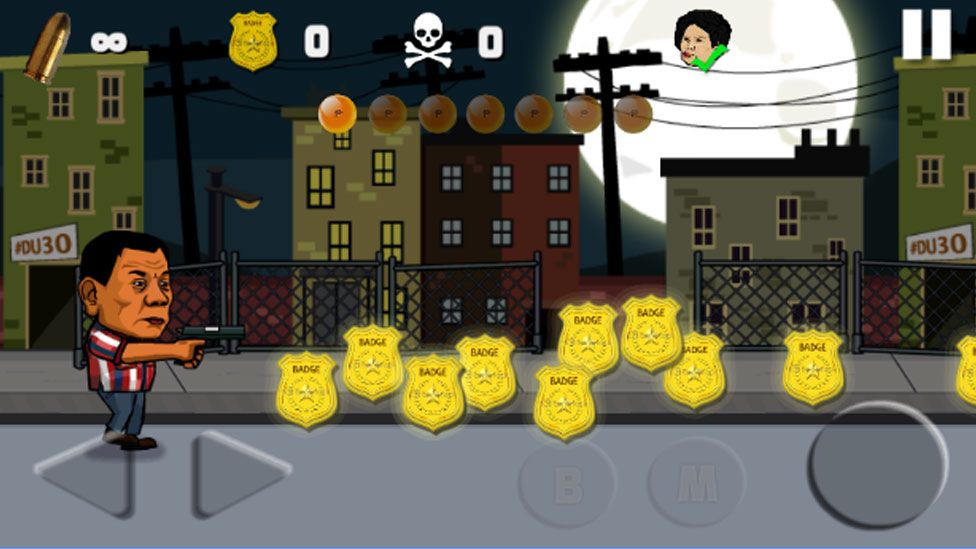 Video games that put the player in the shoes of Philippine President Rodrigo Duterte as he kills criminals have been removed from Apple's app store.
Popular games with titles such as "Duterte knows Kung Fu: Pinoy Crime Fighter" have disappeared from the company's digital shop.
A drug users' advocacy group said it had been campaigning for their removal.
Thousands of people have been killed by police during the president's crackdown on drug-related crime.
The Asian Network of People Who Use Drugs (Anpud) had previously written an open letter to Apple's CEO Tim Cook to remove the games, which it said were "promoting murder, extrajudicial killings, violence, and the war on drugs in the Philippines".
"We did not receive a direct response from Mr Cook or Apple," the group said in a statement. "However, most of the apps no longer appear".
The games that Anpud said had now disappeared include:
Duterte knows Kung Fu: Pinoy Crime Fighter
Duterte Running Man Challenge Game
Fighting Crime 2
Tsip Bato: Ang Bumangga Giba!
All those games featured either President Duterte, or Philippines police chief Ronald "Bato" dela Rosa shooting down criminals, it said.
Some similar games are still available on the rival Google Play store, which provides apps for users of the Android mobile operating system. A few claim to feature shooting zombies rather than humans.
"They made the wrong interpretation. Tokhang is not about shooting people," he told reporters, using the name of the operation.
He told the newspaper that the operation involved policemen knocking on people's doors and urging suspects to stop illegal drug-related activities.
The president has openly and publicly endorsed extrajudicial killings in the campaign against drug crime.