Cambodia's first ice skating team chases Winter Olympic dream
By Holly Robertson
Phnom Penh, Cambodia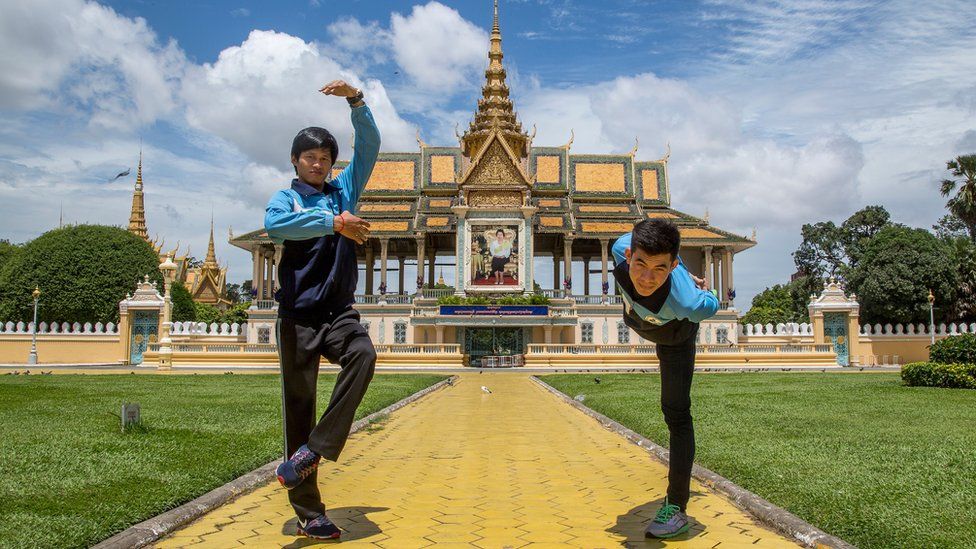 As temperatures in Phnom Penh reach the mid-30s C (90s F), ice machine driver Khiev Panha laces up a pair of figure skates and takes to the ice.
Watched by a small crowd of Cambodians huddled around the sides of their country's only ice rink, Panha skates confidently until he attempts a spin, stumbles and falls.
At first glance, the 23-year-old's skating abilities may seem less important than his handling of an ice rink resurfacing machine.
But Panha is not only charged with maintaining the ice.
He's also a member of Cambodia's six-person national figure skating team, and became one of the first Cambodians to represent their country in a winter discipline when he competed at the Southeast Asia Games in Kuala Lumpur August.
It's little wonder Panha is still finding his feet: it's been less than three years since he took up figure skating, a sport that is notoriously difficult for adults to master.
Most professionals, according to Cambodia head coach, former British international Clair Ben Zina, are generally acquainted with skating by their sixth birthday.
"They learned as adults, which is unheard of in figure skating," says Ben Zina of the team.
Passion and relentless training
Cambodia, which suffered greatly under the Khmer Rouge in the 1970s and during a subsequent civil war that ended in 1998, only got its first ice rink in 2013.
Few Cambodians have even heard of the sport, and the national team wasn't set up until 2015.
Yet Panha and teammate Sen Bunthoeurn, who went to Kuala Lumpur for the competition, have made impressive progress in the few short years since they discovered ice skating.
"When I started working as the [ice machine] driver, I didn't know how to skate - even rollerskating," Panha says. "Now I feel better than before because I've had coaches from many countries - Canada, the US and now England - and they improved my skating."
Unlike Panha, who fell into the sport, 27-year-old Bunthoeurn is a figure skating devotee. He talked his way into becoming an ice skating coach in May 2013, despite having no experience.
"I saw an ad in the newspaper for an ice skating trainer so I applied with my CV," he says. "When they interviewed me they asked: 'Why did you apply if you can't skate?'"
Impressed with his gumption, management gave him 15 days to teach himself how to ice skate.
He now trains at least four hours a day, five days a week, in addition to coaching groups of school-age students in the evenings.
Much of his free time is spent on strength training and other workouts. In between sessions, he whips out his smartphone to watch videos of his figure skating heroes on YouTube.
"Even on my day off when I'm at home, I just feel I want to skate; I just want to stay on the ice," he says. "The spins, the jumps - I really like everything about it."
Just qualifying for an international competition was a big achievement for the pair, both of who come from rural areas where their parents work as rice farmers.
It's also a milestone for the country: not only does Cambodia have no snow or ice, its sole tiny ice rink is situated above three floors of food courts and clothing boutiques at Phnom Penh's Aeon Mall.
"It's about half the size of an Olympic-sized rink," says Ben Zina. "So it's really difficult to train with any sort of power or speed. There's not a lot you can do to get around it."
This year's Southeast Asia Games was the first time figure skating was included in the line-up, and countries such as Malaysia and the Philippines already have much greater depth in the sport than Cambodia.
That fact was reflected in the results: Buntheourn placed 8th and Panha 9th, in a field of nine competitors.
Yet for Ben Zina, who moved to Phnom Penh in March, it marks the beginning of her ambitious efforts to get Cambodian ice skaters Olympic-ready.
The coach has a 10-year plan that would see Cambodian speed skaters compete in Beijing in 2022 and figure skaters take to the Olympic ice in 2026.
"The talent that I'm seeing at a young level is just as good as in any other country. Now it's about me sticking around long enough to really develop and nurture that talent," she says.
Ben Zina sees Panha and Buntheourn as the seeds of a long-term strategy to take Cambodia to the Winter Olympics, which would almost certainly require the construction of a bigger ice rink.
"They are the role models in the rink at the moment and they are hopefully going to be the coaches that assist me in the future," she says.
For the pair, their hopes lie in inspiring a new generation of Cambodian skaters to believe they, too, can achieve their dreams - no matter how wild those dreams may seem.
"I want to give some motivation to our children, our small skaters," says Buntheourn. "I hope they will focus on figure skating and try to build this sport in our country."