Why Uzbek migrants are being radicalised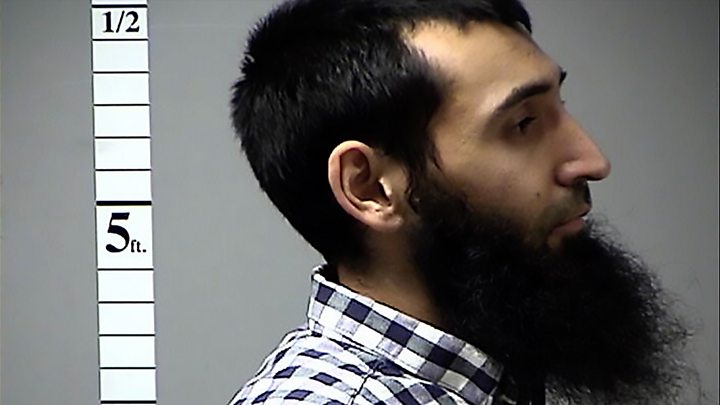 Sayfullo Saipov, who killed eight people in a truck attack in New York, did it "in the name of" so-called Islamic State, a police spokesman has said. Mr Saipov is from Uzbekistan, a Central Asian state whose citizens have been involved in several major terror attacks lately. What is behind this?
Uzbeks were involved in the following major attacks:
These attacks have led many people to view Uzbekistan as a hotbed of radical Islamism. As evidence, they use the example of Uzbek fighters who have joined militants in Syria, Iraq and Pakistan.
Indeed, there is a relatively large group of fighters from Uzbekistan in those countries. According to estimates from the International Centre for the Study of Radicalisation and Political Violence, 500 Uzbek citizens had travelled to join militants in Syria and Iraq by 2015.
But it is misleading to believe that Uzbekistan, and Central Asia as a whole, is becoming a major source of radicalism and Islamic extremism.
The level of terrorism in Central Asia is extremely low. According to the Global Terrorism Database, out of 85,000 incidents of terrorism registered from 2001-2016, there were only 10 in Uzbekistan and 70 across the entirety of Central Asia.
The role of Islam in Uzbekistan and in the region is certainly growing but this should not be viewed as an indication of radicalisation. Otherwise, there is a risk that every Muslim who starts attending a mosque will be treated as an extremist.
The official rhetoric in Uzbekistan is that Islamists are posing a major security threat. Observers, however, say this argument is largely used to justify repressions against those who criticise the regime.
Under the country's former president, Islam Karimov, people who actively practised Islam faced persecution. Human Rights Watch says that 12,000 people in Uzbekistan are currently imprisoned for extremism.
And the country's new leader, Shavkat Mirziyoyev, recently announced that under Karimov's rule 17,000 people were included in a security blacklist as religious extremists. Mr Mirziyoyev recently removed 16,000 of them from the list.
If we look at the profiles of Uzbek and Central Asian attackers - in Stockholm, St Petersburg and elsewhere - most of them left their home country a long time before the attack. Sayfullo Saipov, for example, is reported to have moved to the US in 2010.
Dr John Heathershaw from the University of Exeter argues that in order to understand why so many Uzbek citizens and Central Asians turn to radicalism and decide to carry out such attacks, we need to look their experience as migrants.
"We can't assume that someone seven or eight years ago left their home country with an intention of joining a militant group and launching an attack," he says.
"I think where we need to look for an explanation are some specific recruitment networks within Central Asian migrant communities and diaspora communities. Clearly something is going on there."
Indeed, Uzbek and Central Asian fighters who join militant groups tend to be recruited from abroad. When migrants from Uzbekistan are stigmatised in their new country, especially when they have lost the family environment they once had, then they can be recruited more easily by militant groups.
So, perhaps when we look at Sayfullo Saipov's case, it is his experience in the US and not his life in Uzbekistan that can give us a better understanding of how he was radicalised.