In pictures: Myanmar's persecuted Rohingya minority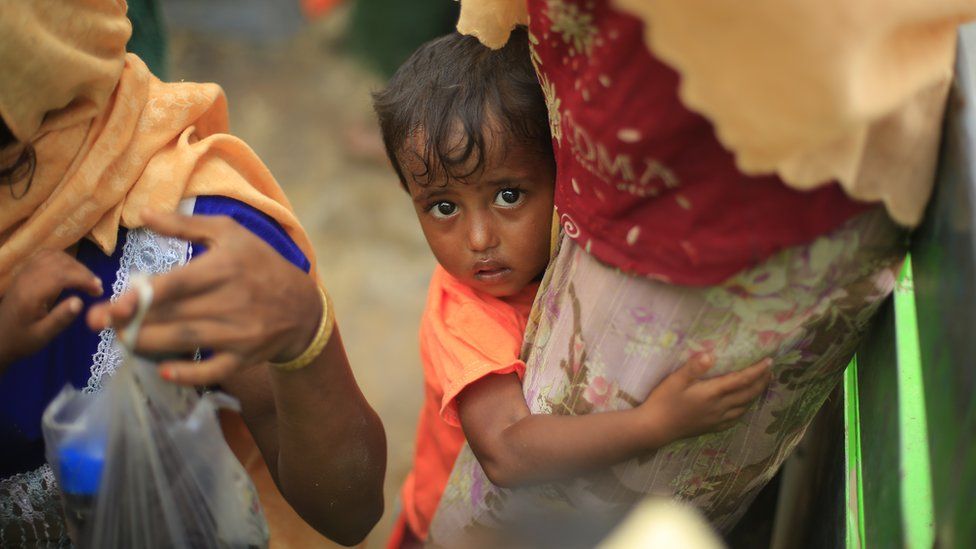 Myanmar's military has brutally evicted more than half a million Muslim Rohingya people from the country's northern Rakhine state. The UN human rights office says their homes and villages have been burned down, and their crops and livestock destroyed to stop them coming back.
Rohingya who fled to neighbouring Bangladesh say that the security services' "clearance operations" involved mass civilian killings, torture, and child rape.
The military denies committing genocide, insisting it has only targeted Rohingya militants. But for those who fear being homeless or worse, the semantics are immaterial.
Bangladesh's UN ambassador says more than 600,000 people have crossed the border since late August, joining the 300,000 or so who fled earlier outbreaks of violence.
They are starving and exhausted. Many are traumatised, and most have children with them. BBC photographer Salman Saeed took these pictures near the refugee camps in Palongkhali, Kutupalong and Balukhali, in the Cox's Bazar area of Bangladesh.
These Rohingya families have been walking for more than a week without food, but have finally arrived in Bangladesh after witnessing atrocities in Myanmar's Rakhine state.
They carry their few belongings and blankets on sticks over their shoulders.
Thirteen-year-old Mobin walked for 12 days to reach safety.
UN experts believe it is "highly likely" that Myanmar's security forces planted landmines along the border in recent weeks, making an arduous journey yet more fraught with danger.
The owner of these weary legs waded through mud to reach a refugee camp.
International observers say some Rohingya people have walked for up to three weeks before arriving at government-run settlements like Kutupalong. The children have welts on the soles of their feet.
Rohingya people are using any available transport to escape Rakhine. Some are trekking to the Naf River, which forms the border, while others are sailing up the coast.
Dozens have already died trying to cross into Bangladesh in small, rickety fishing boats.
The Dhaka Tribune reports that 28 boats have capsized since 24 August, killing 184 people - mostly women and children.
The boats are often overcrowded, and the risk of disaster considerable. Some of those on board are unable to swim.
This man, Abu Tabel, arrived in Bangladesh with his few salvaged belongings gathered in sacks and a basket.
The caged chicken below was his only companion on the long journey to find a new home.
When they reach the camps, the displaced people find - and build - makeshift accommodation along the roads and hillsides around the border town of Cox's Bazaar.
The settlements are muddy, wet and overcrowded, with a shortage of clean water and poor sanitation. There are very few toilets. Torrential rain has increased the hardships - and the risk of diseases like cholera.
Many of those crossing the border already have relatives in Cox's Bazar, whom they are desperate to find.
On 16 October, the Red Cross opened a 60-bed field hospital in Cox's Bazar the size of two football fields.
It has three wards, an operating theatre, a maternity ward, and a psychosocial support unit.
This young Rohingya boy is comparatively lucky - he has received some medical treatment.
Bangladesh has announced plans to build a refugee camp that could ultimately accommodate about 800,000 Rohingya.
It would be the largest such settlement in the world.
This family was photographed resting and having their first meal in several days.
Survivors say starvation had helped drive them from their villages, as food markets in Rakhine state have been shut and aid restricted.
Rasida, who is nine months pregnant, is one of thousands of mothers-to-be who have fled - knowing they could give birth any day.
The United Nations Population Fund estimates that of the nearly 150,000 Rohingya women of reproductive age (15-49 years), some 24,000 are pregnant and lactating.
Some have had no choice but to give birth by the roadside.
On 17 October, the United Nations warned that thousands of Rohingya were still stranded near the Myanmar-Bangladesh border.
It urged Bangladesh to speed up the vetting of up to 15,000 affected people, and move them inland to safety.
Andrej Mahecic, a UN refugee agency spokesman, said it wanted Bangladesh to "urgently admit these refugees fleeing violence and increasingly difficult conditions back home".
He added: "Every minute counts, given the fragile conditions they're arriving in."
For now, the influx continues. Thousands on thousands, caught in the world's fastest-growing humanitarian crisis.
All pictures were shot by Salman Saeed in Cox's Bazar, Bangladesh.