Thailand announces 2018 general election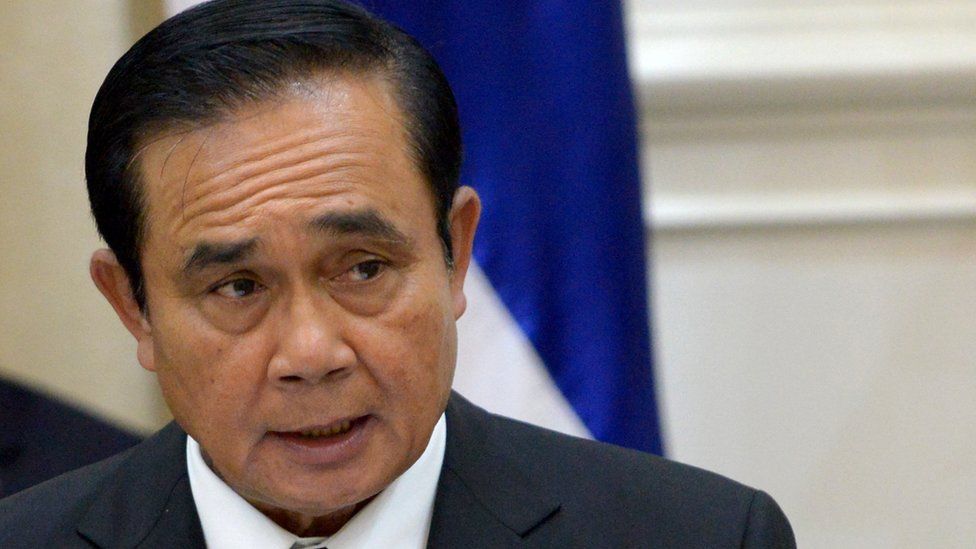 Thailand's military government has announced the country will hold a general election in November 2018.
The military has repeatedly delayed a vote since seizing power in 2014, citing concerns such as changes to the constitution and security issues.
Military-appointed Prime Minister Prayut Chan-ocha told reporters the exact date will be set next June.
The announcement comes as the country prepares for the funeral of its late king Bhumibol Adulyadej this month.
The government's announcement follows confusion last week when US President Donald Trump, after talks with Gen Prayut, welcomed Thailand's commitment to a return to democratic rule in 2018.
The Thai military has seized power 12 times since 1932, but earlier this year pledged not to stage another coup after the next election.
In April the country voted in a referendum on a new constitution and a changed electoral system, which observers say is likely to lead to a more splintered parliament.
The changes are expected to weaken the country's biggest party, Puea Thai, which has won every election since 2001.
Run by business mogul Thaksin Shinawatra until he was ousted in a coup, and then his sister Yingluck until she too was toppled by the military in 2014, the party has proved persistently popular especially with the poorer rural population.
The country's political landscape has long suffered from the divide between Puea Thai and the military and urban elites.
Analysis: On track for a semi-democracy
By Jonathan Head, BBC South East Asia Correspondent
By November 2018, the symbolically important cremation of King Bhumibol will have taken place, and it is likely that the new king, Maha Vajiralongkorn, will have had his coronation ceremony.
Even after the long-awaited election, though, Thailand is likely to have what can best be described as a guided, semi-democracy.
A new constitution will continue to give the military significant political power, through its selection of the 250 senators and the creation of a National Strategy Board which will ensure future administrations adhere to the military's 20-year master plan for Thailand.
The new electoral system will see the country likely governed by coalitions, in which unelected institutions like the military will be able to exercise influence.