Japan court sentences tattooist in 'art or medical' debate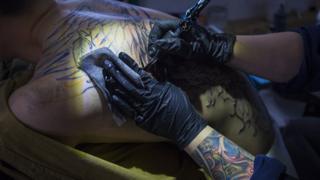 A Japanese tattoo artist who argued he should not have to hold a medical certificate to practise has lost his case and been ordered to pay a fine.
Under Japanese law all tattoo artists require a formal medical qualification.
Police raided the studio of Taiki Masuda in 2015 but he refused to pay the ensuing fine and asked for a trial.
The case, the first of its kind, has drawn international attention to tattoo culture in Japan, where many associate the body art with organised crime.
'Part of the culture'
Mr Masuda had argued that his tattooing was a form of artistic expression, and that preventing him for operating was a violation of the constitution.
He said tattooists needed knowledge of safety and hygiene, but not to the same extent as licensed medical practitioners.
But the Osaka district court on Wednesday ruled that medical knowledge and skills were indispensable in assessing the risks.
It sentenced Mr Masuda to a 150,000 yen ($1,300; £994) fine, half the original penalty.
Mr Masuda said tattoos were "a part of traditional Japanese culture" and he would appeal against the ruling.
Tattoo art is largely associated in Japan with the yakuza, mafia-like organised crime syndicates.
Places like swimming pools, hot springs, beaches or even gyms and restaurants frequently bar people with visible tattoos from entering.
But tattoos have gradually become an a popular trend among young people.
It is unclear how many tattooists in Japan hold a medical qualification.