Bodybuilder dies after celebrity kickboxing bout in Singapore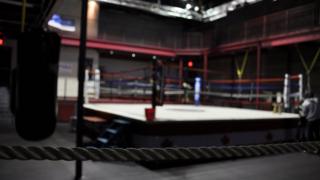 A 32-year-old bodybuilder has died following a celebrity kickboxing bout in Singapore.
Pradip Subramanian was taking part in a Muay Thai contest against YouTube personality and former Singapore Idol contestant Steven Lim on Saturday.
He collapsed after losing the bout and was rushed to hospital where he died of cardiac arrest respiratory failure at 21:00 local time (13:00 GMT).
Police said they were investigating the death.
Subramanian agreed to take part at short notice after former Singapore Idol finalist and singer Sylvester Sim withdrew from the fight.
Organisers say both fighters underwent a medical check-up and signed a declaration form before the bout.
In a post on Facebook, under a photo of Subramanian, Lim described his opponent as a "truly respected fearless warrior".
"This is a very sad moment for me to learn about the shocking news!" he said. "U taught us all the virtues of being fearless and strong."
The fight was part of the Asia Fighting Championship (AFC), organised by Axseed Events and Muse Fitness Singapore.
In a statement, the AFC said: We are deeply saddened to share the news that Mr Pradip Subramanian, Exhibition Match-Up fighter and President of the World Bodybuilding and Physique Sports Federation of Singapore (WBPF) has passed away.
"[We] request that during this difficult time we should come together and extend our support to Mr. Subramanian's family, friends and associates and refrain from any speculation."
Organisers said a final medical report would be released in 30 to 60 days.