New Zealand election ends in stalemate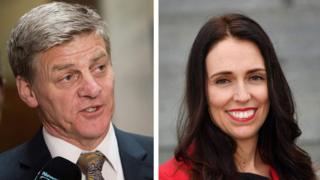 New Zealand's ruling National Party has won Saturday's parliamentary elections but fell just short of a majority.
With all the votes counted, Prime Minister Bill English's party secured 58 seats in the 121-strong chamber.
The opposition Labour Party led by Jacinda Ardern took 45 seats.
With parliament hung, the two main political rivals are making overtures to the nationalist New Zealand First party (nine seats), which is now in a position to play kingmaker.
The centre-right prime minister made the first move, saying he would open talks with NZ First "in the next few days".
However, NZ First leader Winston Peters has so far given no indication which of the two major parties his organisation will support.
Without NZ First, the National Party is unable to form a government as its only ally, ACT New Zealand, secured just one seat.
Ms Arden's party can rely on backing from the Green Party (seven seats) - still not enough to govern in a coalition.
Major campaign issues were the economy, infrastructure, healthcare and housing.
Ms Ardern targeted young New Zealanders with policies on education subsidies, housing and the environment.
Mr English promised voters experience and reliable economic management.
He became prime minister in 2016 when his predecessor John Key unexpectedly resigned.