Two kidnapped Afghan ICRC workers freed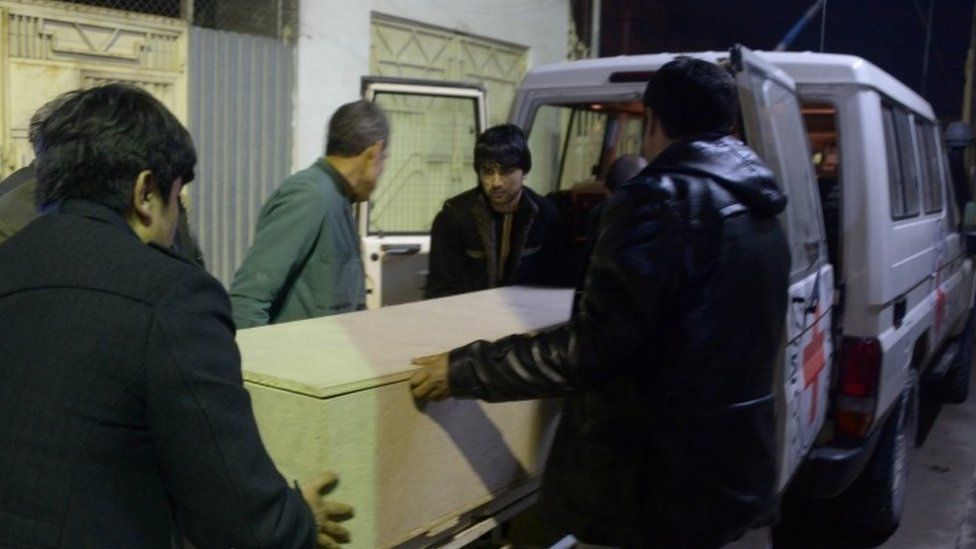 Two Red Cross workers kidnapped by gunmen in Afghanistan in February have been released, the aid group says.
The pair were seized in the northern Jowzjan province on 8 February as they delivered aid.
Six of their colleagues were shot dead in the attack, which led to a temporary suspension of Red Cross operations in Afghanistan.
The aid group said it was "relieved and grateful that our colleagues are now back with us unharmed".
Monica Zanarelli, the International Committee of the Red Cross (ICRC) head of delegation in Afghanistan, said their abduction and the killing of their six colleagues had been "emotional agony for all of us, especially for their families and friends".
The group - three drivers and five field officers - were attacked by gunmen as they brought supplies including livestock materials to areas affected by deadly snowstorms.
The six people who were shot dead were all Afghan nationals. Many had close-range multiple gunshot wounds.
The group said it would not comment on the abductors or give any details of the release of the two workers, who it did not name.
Provincial police officials in February attributed the attack to militants from the so-called Islamic State (IS) group, who were said to be active in the area.
IS militants are mostly based in Nangarhar province in eastern Afghanistan but also have a small presence in other parts of the country.
In a statement, Ms Zanarelli said the ICRC was "thankful to the communities and the authorities who have mobilised and played a role in facilitating our colleagues' release".
Kidnappings, sometimes for ransom, are a serious problem in Afghanistan and aid workers are often targeted.