Sri Lanka's Jagath Jayasuriya wanted for war crimes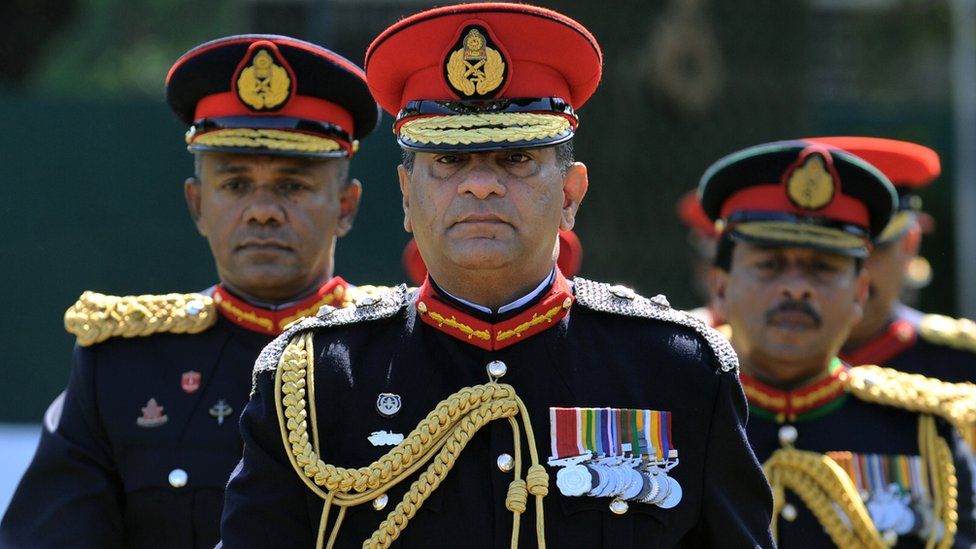 Human rights groups have filed lawsuits in Brazil and Colombia against Sri Lanka's ambassador in Latin America, accusing him of war crimes.
Former general Jagath Jayasuriya was a commander in the final stages of the civil war with separatist Tamil rebels in 2009.
Human rights groups have long called for prosecutions but there have been none so far.
What is Jagath Jayasuriya accused of?
Sri Lanka's ambassador to Brazil, Colombia, Peru, Chile, Argentina and Suriname was in charge of troops in the north-east of the island who are alleged to have attacked hospitals and abducted, killed and tortured thousands of civilians.
As a diplomat he enjoys immunity but the International Truth and Justice Project, which brought the case, wants him expelled and his conduct investigated.
"In the pivotal period between 2007-2009 he was really in charge of what was happening in the Vanni area," lawyer Yasmin Sooka of the International Truth and Justice Project told the BBC's Newshour programme.
"The UN inquiry found that the army certainly didn't maintain the distinction between civilians and combatants, and they also violated the law on the question of proportionality.
In the last months of the war hundreds of thousands of Tamils ended up trapped on a tiny strip of land.
"What was really awful was the perfidious conduct in putting people into no-fire zones and then shelling and bombarding them, which is why you have such a huge loss of life," Ms Sooka said.
Lawsuits are also due to be filed in Peru, Chile and Argentina, according to the group.
Where is the ambassador now?
Sri Lanka's government says the former general is on his way home following the completion of his assignment as ambassador. He is scheduled to arrive in Colombo on Wednesday.
"His departure from Brazil was pre-planned and he has not fled as some media reports allege," Foreign Ministry spokeswoman Mahishini Colonne told BBC Sinhala.
Ms Sooka said: "He was tipped off, and he skipped from Brazil yesterday - we've tracked him and, based on reliable information we have, he took a direct flight to Dubai."
International lawsuits across jurisdictions are complicated.
Spain's Carlos Castresana Fernandez, who has co-ordinated efforts against Jagath Jayasuriya, is one of the lawyers who worked on cases against Chilean General Augusto Pinochet and Argentine General Jorge Rafael Videla.
Gen Pinochet spent 18 months under arrest in London fighting extradition to Spain.
Yasmin Sooka says Jagath Jayasuriya will have diplomatic immunity for as long as he's an ambassador.
"We've heard he held on to the ambassadorial post and that he will probably resign when he reaches Colombo - immunity will cease once he steps down from the post.
"But what's wonderful is the Latin American countries can actually file an arrest warrant, they can put him on an Interpol red list and ask for his extradition - and really he will become a prisoner on the island of Sri Lanka."
The BBC sought a response from Sri Lanka's Foreign Ministry and the government spokesman on the case but they have not yet provided a response.
What was the cost of the war?
The 26-year civil war left at least 100,000 people dead on both sides of the conflict. The Tamil Tigers said they were fighting for a homeland for minority Tamils in northern Sri Lanka.
There are still no confirmed figures for tens of thousands of civilian deaths in the last months of battle.
While government forces were accused of indiscriminate shelling leading to massive casualties, the Tamil Tiger rebels were alleged to have used civilians as human shields and shot people trying to escape.
One investigation said it was possible up to 40,000 people had been killed in the final five months alone. Others suggest the number of deaths could be even higher.