Heroin found at London Heathrow on plane from Pakistan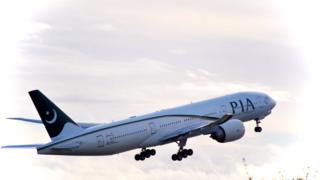 Police in the UK say a "quantity of heroin" has been found on board a plane that flew to London from Pakistan.
No-one is under arrest following the discovery on Monday, but the aeroplane was impounded on arrival at Heathrow Airport so it could be searched for several hours.
The crew's passports were temporarily seized.
Pakistani reports say it was an aircraft of the national carrier, PIA, flying from the capital Islamabad.
They say the narcotic was distributed in bundles around different parts of the plane.
The plane has now made a delayed trip back to Pakistan with a new crew.
The UK's National Crime Agency says no arrests were made but enquiries were ongoing.