The activist tackling Mumbai's rubbish mountain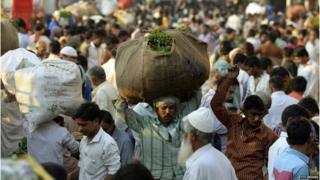 Mumbai is one of the world's megacities - among the largest in India and a place of breathtaking contrasts.
It is home to more of India's millionaires and billionaires than any other, but sprawling slums where people live in cramped, dirty spaces without basic sanitation are also part of the city's fabric.
As thousands across India are drawn here in search of work, the expanding city is piling pressure on everything from the crowded transport system to municipal services such as rubbish collection.
Mumbai generates 11,000 tonnes of waste every day. A lot of it ends up in a garbage dump in a northern corner of the city and from a distance, it looks like a mountain. It is only when you get closer that you realise the scale of the problem facing Mumbai.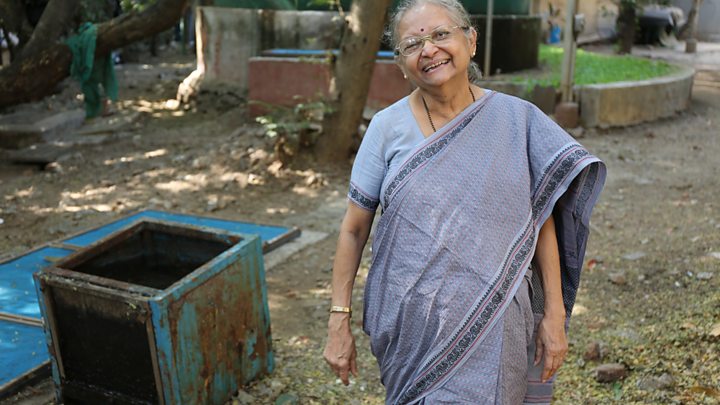 One woman who has been trying to tackle the rubbish mountain is Jyoti Mhapsekar, a quietly-spoken activist who has been working since the 1970s with the city's so-called rag pickers - the women who sweep up the streets for low wages.
She realised that by organising the women to collect and separate the rubbish for recycling, she could keep more of it out of the landfill site.
Today, small teams of waste collectors service some 100 locations in the city. Wet waste is composted in special pits while the dry waste items are recycled. In some schools, kitchen waste is converted into cooking gas.
In this way some 50 tonnes of waste is diverted from the rubbish tip. But convincing people to segregate garbage has not been easy.
"It requires a change in attitudes," Ms Mhapsekar says. "People think 'not in my backyard' and then 'out of sight, out of mind'.
"People feel that Mumbai is dirty because of the slums, but actually garbage is generated by upper and middle classes. As your income increases, garbage increases. It takes a lot of time to motivate those people."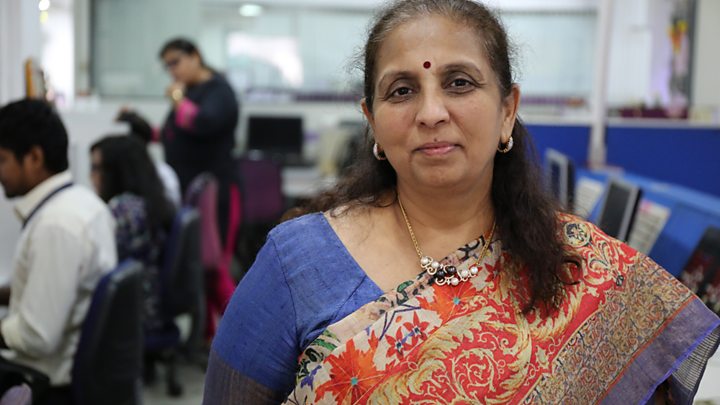 The upper and middle class communities' growing affluence is evident in many areas of the city.
Deena Mehta, a successful businesswoman who was the country's first female stockbroker, lives in South Mumbai, one of the city's more prestigious neighbourhoods.
Despite being a lone woman in a male dominated industry, she loved it and was transfixed. She stayed the course, battling sexism along the way, until in 2001 she became the BSE's first female president.
She says that people still come to Mumbai despite its disparities, which are down to corruption and exploitation.
"Even if you earn less here, you're accepted in society," she says. "I wouldn't hesitate to talk to any person or employ anyone.
"That's not the case when you go to other cities or small towns in India. Mumbai is very hospitable to everyone. I'm sure most people don't go hungry here because this city provides employment to them."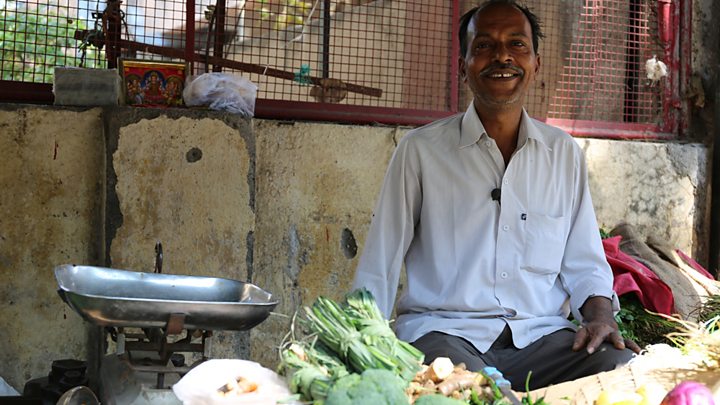 A quarter of Mumbai's population has migrated from India's vast rural hinterland in search of jobs.
Rangeela Yadav made the journey 25 years ago from a village in the northern state of Bihar nearly 1,200 miles away. Home is a small bare room in a slum that he shares with two brothers and two nephews, not far from his roadside vegetable stall.
The stall earns him around $100 (£82) a month, more than half of which he sends to his wife, son and a daughter who live in his home village.
"Anyone who comes here has a compulsion," he says. "I came to earn enough for two square meals. People are forced to migrate. No-one comes willingly."
He is up early to buy vegetables in the market and remains at his stall until sunset. He never takes a day off.
His great hope is that the education he is funding for his son enables him to get a decent job. In the old days, he says, even the illiterate could earn a living.
No longer, he says. "Education is a must for a bright future."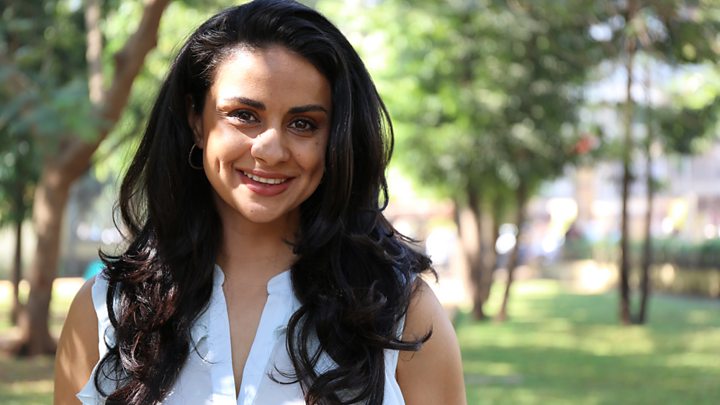 Someone who has had their turn in the bright lights is Gul Panag, a Bollywood actress turned rights campaigner and entrepreneur.
The daughter of an army officer, she won the Miss India beauty pageant in 1999, giving her a break in the film industry, but quite early on she realised that there were few female roles that she wanted.
"I wanted to do films where my part wouldn't be ancillary to the larger plot," she says. "But in the main plot, women didn't matter. They were just there to help the hero in his task with whatever he was doing."
She starred in one mainstream Bollywood film, a role she coveted, but realised that she couldn't rely on similar roles to make a living in an expensive city like Mumbai.
"If I wanted to live comfortably in Mumbai I would have to do parts that I was not comfortable doing," she says. "So I realised that I'd have to build alternative revenue streams to pursue the kind of cinema that I enjoyed and believed in."
Ms Panag set up a series of companies ranging from fitness technology to aviation and has also co-founded a women only arts festival to give a platform to female performers. Oh, and she's a social media star with a big following on Twitter.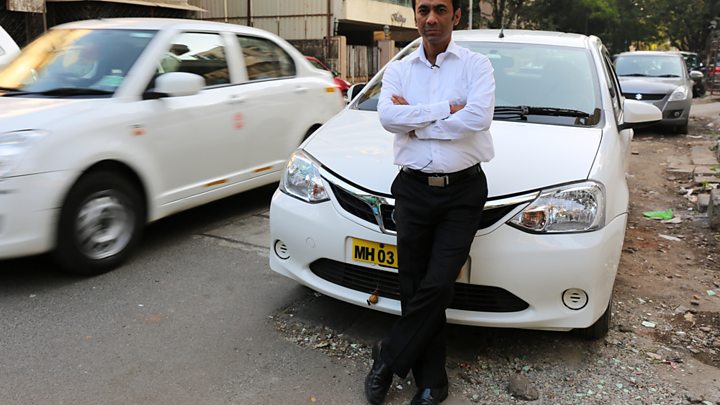 The rapid spread of mobile phones and internet connectivity is changing working life in the city.
"If there's no internet today, everything would be finished," says Kuldeep Singh Barswal, a driver who makes a living working for a mobile app taxi hailing service.
Mr Barswal used to be a salaried driver for a corporate boss, but illness forced him out of that job. Friends suggested the Ola app, India's competitor to the better known Uber.
"They said that if you were working so hard for someone else, why not work hard for yourself instead? They told me I would earn three times more," he says.
"Earlier I had a boss, now I am my own boss. I can say this is better than doing a job."
It has not been quite so straightforward. Last year, drivers of Mumbai's famous black and yellow taxis protested against the app-based competition. The apps have also cut payments to their drivers.
That has hit Mr. Barswal's profits, but he does not want to worry too much. "Why should I spoil my today for something which might happen tomorrow?" he says.
The tenacity and resilience of the people of Mumbai is often celebrated, but it is not a choice. The chaotic, overwhelming city almost forces its residents to become tough and the gaping inequality it puts on display offers a constant reality check.
As Ms Panag puts it: "What Mumbai does is shows you you're just one side of the spectrum. Even in its most affluent area, you'll still have slums. It gives you perspective, that no other city in the world can give you."