Marcos grandson mocked over Rogue One tweet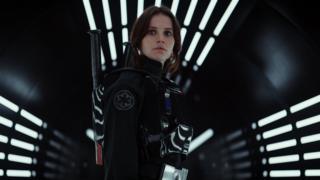 Filipino netizens have mocked former dictator Ferdinand Marcos's grandson for praising the latest Star Wars film, drawing parallels with his family's controversial rule.
Marcos and his wife, Imelda, ruled the Philippines for 20 years.
He has been accused of torturing and killing opponents, as well as looting billions of dollars from the country.
His 22-year-old grandson Sandro tweeted his love for the newest Star Wars film, saying that "Rogue One was incredible".
Studying in the UK, he is the eldest son of Filipino politician and former senator Ferdinand "Bong Bong" Marcos Jnr, who came very close to winning the vice-presidency in the country's May elections.
---
---
The young Marcos, who has more than 280,000 followers on Twitter, joined in global praise for the movie, the first of three spin-offs in the popular franchise.
Directed by British filmmaker Gareth Edwards, the film follows a plot by rebellion fighters planning to overthrow fascist leaders of the Empire who are determined to build the Death Star.
'The Force is strong with irony'
Dozens of Filipino Twitter users replied to his tweet, drawing "ironic" parallels with his controversial grandfather's "dictator rule".
"The Rebellion is like People Power, The New Republic is Martial Law, and Darth Vader is your father," said one user.
"The Force is strong with the irony," commented Salvador Aquino.
"You know what's more incredible? Admitting your family's crimes against the Philippines and apologising for them," wrote another user.
Kate Andor said: "Do you not see the irony of you enjoying a movie about underdog rebels overthrowing an oppressive regime?"
Referring to the show's main character Jyn Erso, daughter of the scientist who created the super weapon, Twitter user Clyde Pena wrote: "Jyn made amends for her father's mistake. Why can't your father do the same?"