Bangladesh opposition editor Mahmudur Rahman released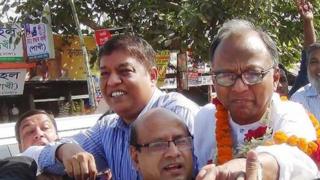 A pro-opposition newspaper editor in Bangladesh has been released on bail after being held in prison for more than three-and-a-half years.
Mahmudur Rahman still faces more than 70 charges, including the attempted murder of the prime minister's son, and inciting religious tension.
Rahman was earlier granted parole for a corruption conviction last year.
His detention led to protests from Islamists and the opposition, who said the charges were politically motivated.
Rahman, 63, was arrested in April 2013 during a nationwide crackdown on the opposition.
"He was released today after he got bail in the last of his 78 cases," his lawyer Zainul Abedin Mesbah told the AFP news agency.
Rahman was the editor of mass circulation Bengali daily Amar Desh, which was closed down by the government.
He was accused of publishing false and derogatory articles that enflamed religious divisions in the Muslim-majority country.
Rahman was accused by the governing Awami League of using his newspaper to encourage political demonstrations against a war crimes tribunal set up by the government to examine abuses allegedly committed by people who supported Pakistan during Bangladesh's independence war of 1971.
In August last year, he was sentenced to three years in prison for not providing details of his wealth to the Anti-Corruption Commission. He was granted parole in that case earlier this year.
Amar Desh published a series of reports accusing the country's secular bloggers - many of whom have been murdered by Islamists over the past two years - of Islamophobia.
Rahman's release follows that nearly three months ago of Shafik Rehman, another well-known pro-opposition magazine editor who spent nearly five months in jail on suspicion of sedition.
The 81-year-old British citizen was a former speechwriter for main opposition leader Khaleda Zia - the archrival of Prime Minister Sheikh Hasina.