Afghanistan: Journalist killed by Helmand roadside bomb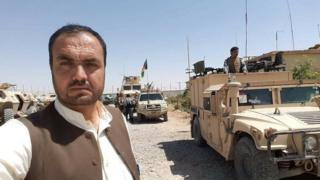 A roadside bomb has killed an Afghan journalist in Helmand province.
Nematullah Zaheer's vehicle was hit while he was filming military operations in Sur Gadah, east of the provincial capital Lashkar Gah.
Fighting in Helmand has intensified since the bulk of Nato forces left in 2014. The government still runs the capital, but little more.
The region's countryside is the main source of the Afghan opium trade and the Taliban's traditional power base.
Provincial officials say the Taliban now control 85% of the province. Only a year ago the government controlled 80% .
Mr Zaheer was Helmand reporter for Ariana News. His driver was injured in the attack, a spokesman for the Helmand governor's office told the BBC.
Ariana News tweeted: "We lost a brave reporter, Nematullah Zaheer, in line of duty. Zaheer was targeted by a roadside bomb in Helmand. RIP."
President Ashraf Ghani also condemned the killing, saying in a statement that "such terrorist attacks cannot stop media freedoms in Afghanistan".
Eleven deaths in 2016 means it is the deadliest year yet for journalists in Afghanistan, according to the Afghan Journalists Safety Committee.