Jakarta attacks: Militant jailed over bomb-making role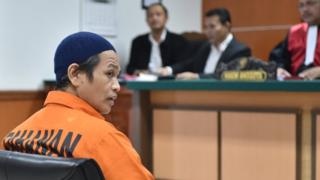 An Indonesian court has jailed a supporter of the so-called Islamic State group (IS) for his role in a bomb and gun attack in Jakarta in January.
Ali Makhmudin, 41, was jailed for eight years after being found guilty of helping to prepare bombs.
Four civilians were killed when militants set off bombs near a cafe and a police security post.
Five attackers died in an ensuing gun battle with police and about 40 suspects have since been arrested.
The Jakarta court heard that Makhmudin had made casings for several pipe bombs used in the attack.
He gave the devices to another militant who took them to Jakarta and gave them to the attackers, the court heard.
Makhmudin, who pledged allegiance to IS in 2014, was found guilty of committing an act of terror. He told the court that he accepted the decision.
Last week, Indonesian man and IS supporter Dodi Suridi was jailed for 10 years for helping to make one of the bombs. Another man, Ali Hamka, was jailed for four years for trying to source guns and ammunition.