Netflix jokes about N Korean imitator Manbang in Twitter bio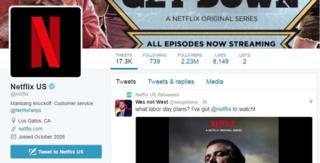 Netflix has taken a light-hearted swipe at North Korea's recent venture into the video-streaming industry, in the biography of its US Twitter page.
The world's biggest name in on-demand video describes itself as a "Manbang knockoff" in its bio.
Manbang is the name for North Korea's own streaming service, recently unveiled by its state broadcaster.
The set-top box, which connects to the state-controlled internet, was dubbed North Korea's Netflix in news reports.
It is said to enable viewers to search for and replay documentaries, and watch five TV channels. Demand for the device was high, said KCTV.
Most North Koreans have no access to the internet and the access a few have is extremely limited.
Netflix, which made the change on Thursday, often puts humorous and topical references in its Twitter bios.
It is not known what Manbang thought about the change.