Call to release UK-Bangladeshi journalist Shafik Rehman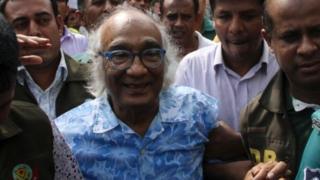 Several press freedom groups have signed a letter urging Bangladesh to release a prominent journalist who has been detained since April.
Shafik Rehman, a UK and Bangladeshi national, was held after police linked him to a conspiracy to murder the son of Prime Minister Sheikh Hasina.
His family have denied the claims, while his supporters have described the arrest as politically motivated.
Mr Rehman is the third pro-opposition editor to be detained since 2013.
The 81-year-old was the long-time editor of Jai Jai Din, a mass-circulation Bengali daily, and, at the time of his arrest, he edited a popular Bengali monthly magazine called Mouchake Dhil.
He was also an advisor to opposition leader Khaleda Zia, the prime minister's arch-rival.
'Attack on press freedoms'
Mr Rehman has been in detention since 16 April, when he was arrested over sedition charges that his family denounced as "completely farcical".
Bangladeshi police have yet to submit investigative reports outlining the case against him.
"The delays in this case suggest that there is no evidence against Mr Rehman, and that he should be released," 26 rights groups said in a joint letter to the Bangladesh government.
"Mr Rehman is a professional journalist who has spent a lifetime working for freedom of expression. We are concerned that his arrest represents an attack on press freedoms and forms part of a worrying trend in Bangladesh," the letter added.
Citing his age, the letter said there were "strong compassionate grounds for releasing Mr Rehman on bail, while any evidence (if there is any at all) can be gathered without jeopardising his health".
The letter was signed by press freedom and rights groups including Reprieve, Reporters Without Borders and the International Federation of Journalists.
'Anti-state activity'
Nadeem Qadir, press minister for the Bangladeshi High Commission in London, denied that press freedoms were under threat in Bangladesh.
"It is not uncommon for police to take their time with an investigation," especially given that this was "a very sensitive case", he added.
Given that Mr Rehman was accused of "a conspiracy to kill the son of the Prime Minister... there is no bail for this kind of anti-state activity", he said.
Rights groups raised also concerns over press freedoms in Bangladesh earlier this year, when Mahfuz Anam, editor of the respected English-language Daily Star newspaper, was accused of treason for accusing Sheikh Hasina of corruption in 2007, when the country was run by a military government.