Olympics 2016: Nepal swimmer, 13 is youngest at Rio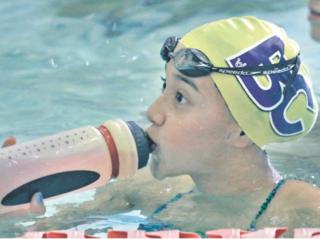 A teenage girl from the Himalayan nation of Nepal is set to be the youngest competitor at this year's Olympic Games in Rio.
Gaurika Singh, aged 13, is to compete in the women's 100m backstroke.
Born in Nepal but based in London since 2004, Gaurika already holds seven national swimming records in her home country.
The daughter of a doctor, Gaurika has been training for the last four years at the Barnet Copthall Swimming Club in north-west London and is part of a team of seven representing Nepal in Rio. 
She began competing in championships in Nepal when she was only 11. 
'Go girl!'
Gaurika's age and achievements have not gone unnoticed in the Nepalese press.
"She is Nepal's best swimmer so far," declares The Kathmandu Post, adding that she "broke Nepal's drought" with her haul of four medals at the South Asian Games in India earlier this year.
Gaurika "reacted with total disbelief" when she found out she is the youngest athlete at the Games, The Annapurna Post newspaper notes.
A special photo feature in Nepali-language paper eKantipur recalls that Gaurika survived the country's devastating earthquake in 2015.
Social media users express excitement over her Olympic debut and thank her for making the nation "proud".
"Gaurika has boosted our pride and dignity," says Sandeep JnawaLi in a post in Nepali.
And many Twitter and Facebook users are urging Gaurika on to deliver a "brilliant performance" at the Games.
"You go girl…" say users Kalpana Thapa and Rhea.
Quest for medals
There is no minimum age for time-qualified swimmers at the Olympics. The youngest Olympic medallist to date is Greek gymnast Dimitrios Loundras who competed in Athens games in 1896. He won a bronze medal in a team event, aged 10 years and 218 days.
Nepal made its debut at the Olympic Games in 1964, and has sent teams in the past for taekwondo, judo, swimming, and shooting. The country is still chasing its first medal.
BBC Monitoring reports and analyses news from TV, radio, web and print media around the world. You can follow BBC Monitoring on Twitter and Facebook.