Japan knife attack: Suspect's home searched by police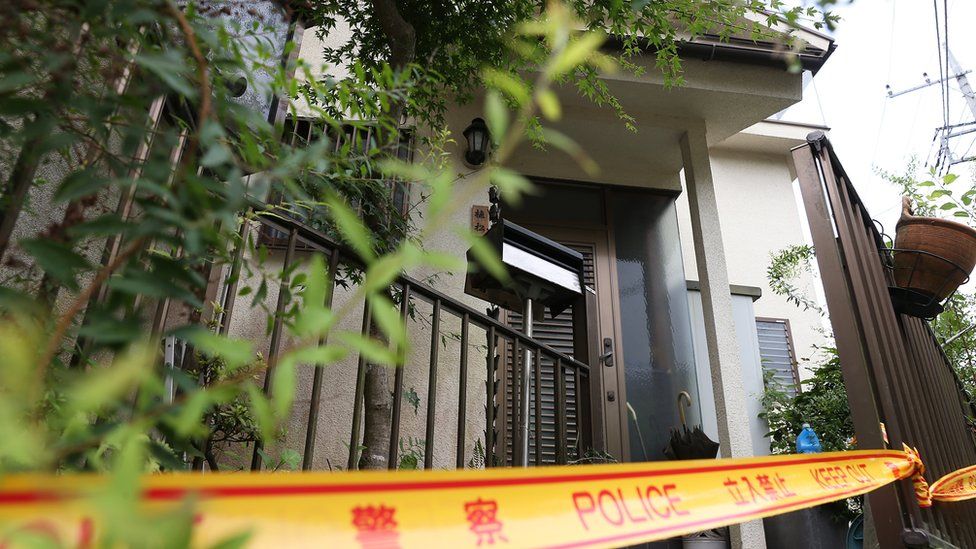 Police have searched the home of a man accused of carrying out Japan's worst mass killing in decades, at a care home for people with mental disabilities.
Satoshi Uematsu, a former employee of the facility in Sagamihara west of Tokyo, stabbed 19 people to death on Tuesday, say police.
He had previously sent letters to politicians threatening to kill hundreds of disabled people.
The 26-year-old turned himself into police after the attack.
He was quoted by police as saying he had attacked those who were unable to communicate their feelings, broadcaster NHK reported.
Could more have been done? John Sudworth, BBC News, Sagamihara
There is a deep sense of distress that such a thing could happen here of all places, in this sleepy suburb nestling in quiet green mountains.
But that's a discussion that is also taking place at a wider, national level.
Japan has one of the world's lowest rates of violent crime. There were fewer murders in this country of 130 million people last year than there were in the city of Chicago, population less than three million.
Many reasons are cited: tough gun control laws; a communal culture that attaches deep shame to public acts of anger; low levels of drug abuse.
Japan is not immune to mass killings, but such events are rare, once a decade or so occurrences.
Could more have been done to prevent this latest crime? Should the warning signs have been more urgently acted upon? The question is, how much security is too much security in a country that, for the large part, doesn't need it.
'It would be better if the disabled disappear'
On Wednesday, Mr Uematsu was transferred from a local police station, where he had been held since he turned himself in, to the prosecutor's office in Yokohama.
He is believed to have broken into the Tsukui Yamayuri-en facility early on Tuesday morning.
Authorities said the 19 victims of the attack ranged in age from 19 to 70, and were all residents. Dozens of others were injured.
Most of the victims were stabbed around their necks, some with wounds as deep as 10cm (4in), according to Japanese media.
Mr Uematsu had reportedly said to investigators that it "would be better if the disabled disappeared", adding that he had "no remorse" about the killing.
In the letter he sent to politicians in February, he threatened to kill hundreds of disabled people during a night shift, according to reports from Kyodo news agency. At that time Mr Uematsu was kept in hospital for almost two weeks before being released.
Kanagawa prefecture governor Yuji Kuroiwa said there had been "warning signs" but that it was difficult to say if the attack could have been prevented.
Prime Minister Shinzo Abe said after the incident: "The lives of many innocent people were taken away and I am greatly shocked. We will make every effort to discover the facts and prevent a reoccurrence."
Mass killings are extremely rare in Japan, in part because strict gun control laws mean almost no-one has access to a firearm.
8 June 2008 - a man drove a truck into a packed shopping district at Akihabara in Tokyo, before climbing out and randomly stabbing people. Seven people died.
8 June 2001 - man with a history of mental illness stabbed eight children to death at an Osaka primary school in 2001.
20 March 1995 - 13 people die and thousands are made ill when members of a doomsday cult release sarin gas in the Tokyo subway.