New Zealand record cocaine seizure in horse's head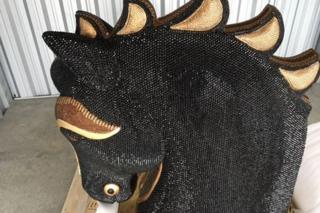 New Zealand police say they have made their biggest ever seizure of cocaine, hidden inside a novel kind of drug mule.
They intercepted the $10m (£7.6m) worth of cocaine inside a huge diamante-encrusted statue of a horse's head.
The shipment of 35kg (77lb) bricks was air-freighted from Mexico to the city of Auckland in May.
An American and two Mexicans were arrested over the weekend following a six-week investigation.
The horse's head weighed 365kg and was 1m (3ft) tall, the New Zealand Herald reported.
"This is a significant win for New Zealand," said Det Supt Virginia Le Bas. "We should be proud to have detected it at the earliest of stages."