Sri Lankan elephant rescued from drain dies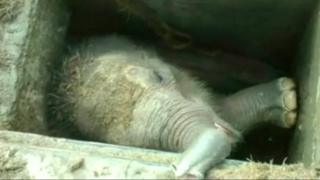 An elephant calf that was rescued from an uncovered drain in Sri Lanka last month has died at a transit home because there were no veterinary medics immediately available, officials say.
The calf was in a critical condition but the home's one and only vet was on leave, officials told BBC Sinhala.
The vet's absence from 17 June meant that officials were unsure how to treat the calf when its condition got worse.
The animal died on 20 June at an elephant transit home.
Another vet was called in on the day the animal died - but it was too late for him to save its life, officials say.
Injured leg
In a dramatic rescue in May, wildlife officials broke open the drain and pulled the little elephant to safety.
It was then taken away from the drain in Hambantota port in the south of the country to be treated for an injured leg.
Video taken at the time of the rescue showed the calf to be in distress as it waited to be freed.
Another elephant - which officials say could well have been its mother - nervously watched the rescue operation from nearby woodland.
The calf was eventually released when a man chipped away the paving from around the drain to allow enough space for it to be pulled out.