South Pole plane leaves after Antarctica rescue mission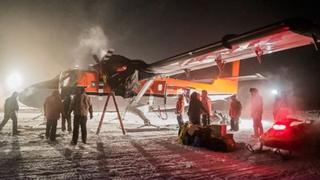 A small Canadian plane has left a South Pole research station with a sick worker after swooping in on a dramatic medical rescue mission.
The Twin Otter plane made a journey of thousands of miles through 24-hour winter darkness and in temperatures of -60C (-76F) to reach the base.
It is now en route to a British facility 2,400km (1,500 miles) away.
Officials launched the operation as the worker's medical condition could not be treated on site.
There are fewer than 50 people at the Amundsen-Scott research station, which is run by the US National Science Foundation (NSF). It has a doctor and a physician's assistant.
"The Twin Otter aircraft flying an Antarctic medical-evacuation mission has left the National Science Foundation's Amundsen-Scott South Pole Station en route to the British Antarctic Survey's Rothera Station," the NSF wrote on Facebook.
A spokesman said they were still checking who was onboard. Earlier reports said two people needed treatment.
The nature of the medical emergency has not been released on privacy grounds.
It is likely to take up to 10 hours for the flight to reach the Rothera station, located on the Antarctic peninsula.
The extreme conditions make such operations rare. Michael Dinn, director of Operations for the British Antarctic Survey, said the ski-mounted Twin Otter was the only aircraft capable of landing safely.
"It's pitch-black right through the whole of the day, it has been for some months at the South Pole, and will continue to be.
"It's a combination of that - the temperature, the very inhospitable environment and the fact it's dark all the time."
Hundreds of science researchers at the South Pole are cut off from the world for the entire six-month winter every year.
The first medical evacuation from the station was in 1999, for a doctor who had been diagnosed with an aggressive form of breast cancer. Jerri Nielsen was the only medical professional on site and administered her own chemotherapy for months before the sun rose again and she could be airlifted.
The first base at the site of the current Amundsen-Scott station was built in 1957. It is used for scientific research and features a powerful space telescope.