Indonesia president visits islands in disputed waters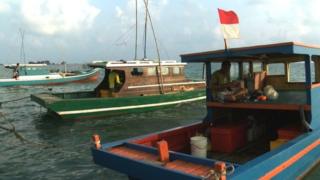 Indonesia's President Joko Widodo has visited the Natuna Islands in the South China Sea, amid an ongoing maritime rights dispute with China.
The visit, aboard a warship, comes a week after the Indonesian navy fired on a Chinese fishing boat in waters near the islands, detaining the crew.
Mr Widodo was accompanied by his foreign and chief security ministers.
Beijing does not claim the islands but says it has "overlapping claims" in their waters.
Indonesia has recently been stepping up its response to Chinese fishing in what it considers its exclusive waters, sending warships to back up coast guard vessels that have previously struggled to enforce territorial exclusivity.
"In the course of our history, we've never been this stern [with China]," Chief Security Minister Luhut Pandjaitan told The Jakarta Post newspaper.
The region is bracing for increased tension over an expected ruling by the Permanent Court of Arbitration in the Hague over complaints brought by The Philippines against China and its claims and activities in the South China Sea.