Afghan Taliban seize dozens of hostages in Kunduz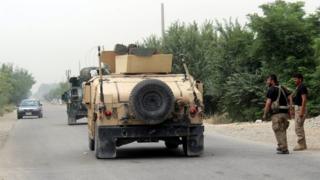 The Afghan Taliban have kidnapped up to 40 people on the main road through the northern province of Kunduz, officials say.
A witness said Taliban gunmen stopped buses and took hostages just outside Kunduz city, the provincial capital.
Last week the Taliban killed at least 12 passengers on the same road and are still thought to be holding another 10.
The militants briefly overran Kunduz last autumn before security forces retook most of the city.
The offensive was the first time the Taliban had taken a city since being ousted from power in 2001.
Militants frequently kidnap and kill travellers using roads passing through volatile regions of Afghanistan.
Kidnapped by IS, saved by the Taliban
After the Taliban: Revisiting scarred Kunduz