Bangladesh's first female journalist, Nurjahan Begum, dies at 91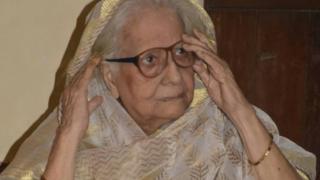 Nurjahan Begum, the first female journalist in Bangladesh and a trailblazer for female journalists in South Asia, has died. The BBC's Akbar Hossain looks at who she was, and what she achieved.
Nurjahan Begum was the editor of Begum magazine, the first magazine for women in the subcontinent, for the last 65 years.
Ms Begum was dedicated to the magazine - editing it up until her death at 91.
Begum was Bangladesh's first weekly magazine with pictures, and created opportunities for many female Muslim writers.
'Brave' magazine
The magazine was founded in 1947 by Ms Begum's father, Nasir Uddin, who was also a journalist. It was first published from what was then Calcutta (now Kolkata) a month before India gained freedom from British rule, and shifted to Dhaka in 1950.
The magazine was hugely popular with Muslim women readers but also attracted the attention of men. It was even distributed to rural areas through the post.
Serajul Islam Chowdhury, a former professor of English literature in Dhaka University, has been a passionate reader of Begum magazine for the last 60 years.
He said that it was a brave step to publish a magazine for women readers at that time.
There were few voices for women in 1947, and "at that time women in our society didn't dare to take their own photos. Begum brought major changes towards that attitude," he said.
Ms Begum died on Monday, as a result of health complications related to her age, doctors said.
However, she will be remembered for relentlessly pursuing women's rights and focusing on their successes in every publication of Begum.