Anger over Thai broadcast of suicide threat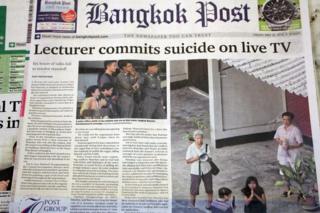 The decision by Thai TV channels to broadcast hours of live coverage of a man threatening to kill himself has sparked public anger and concern about media ethics.
The man, a suspected murderer, was surrounded by police on Thursday and said several times he was about to shoot himself. All of it was being watched in real time around the nation.
As events unfolded, the media regulator took the unprecedented move of asking TV channels to stop broadcasting from the scene.
Despite intense negotiations, the man suddenly shot himself in the head. He died later in hospital.
'Army of reporters'
While some channels had been careful to blur the image whenever 60-year-old Wanchai Danaitamonut was pointing the gun directly at his head - and did not show the actual moment he shot himself - others live broadcast the entire event uncensored for hours on television and on their social media channels.
"It was very possible that we would see a real suicide," said Prof Pirongrong Ramasoota, head of journalism at Bangkok's Chulalongkorn University.
"Sometimes Thai media try to appeal to the so-called morbid curiosity of people."
Wanchai Danaitamonut was suspected of killing two of his colleagues at Phranakhon Rajabhat University in Bangkok on Wednesday, in front of a graduate student. Local media cited police as saying he had professional conflicts with the two victims.
He then fled the scene to a hotel where police tracked him down and surrounded him.
Local media described an "army of TV cameramen and reporters" observing the standoff from the hotel parking lot.
Almost six hours of negotiations later, including appeals from his family and former colleagues to give himself up, he shot himself at about 18:45 local time.
'Threat to public order'
Some hours into the standoff, the National Broadcasting Telecommunications Commission (NBTC) issued its warning to broadcasters.
It ordered all television channels to stop broadcasting the live standoff. Such a broadcast of a sensitive incident could be regarded as an act that affects law and order, Supinya Klangnarong, NBTC member told Bangkok Post.
Usually the NBTC reacts to complaints by the public, but according to Prof Ramsoota, an advisor on content to the NBTC, this was likely deemed "a threat to public order" and "worthy of consideration of special action".
Prof Ramsoota said if the channels were deemed to be in violation of Thailand's media laws and section 37 - which covers forbidden content - they could be fined or lose their licences.
'Violate basic ethics'
But some have said the make-up of the media landscape in Thailand contributed to the extensive and uncensored coverage.
The number of news channels in Thailand has grown in the last two year, and there is now intense competition, said Prof Pirongrong Ramasoota.
That is what compelled them to show the disturbing images, she says. When one or two of them started broadcasting the incident, the rest followed suit.
Phepchai Yong, president of the Thai Broadcast Journalists Association and group editor-in-chief at The Nation newspaper says there is no question it borders on crossing the line.
"As a veteran journalist the images that we saw yesterday violate the basic ethics - you don't show that kind of image," he told the BBC.
He argues that at more established media organisations such as The Nation editors were trying to follow some guidelines on what is appropriate for broadcast, but he suspects that at some of the newer less experienced channels that did not happen.
"This kind of event was new for the Thai broadcast industry, its natural for them to give the audience what they think they wanted, without thinking about the image that appears on the screen," he said.
"As journalists they should cover it but there should be required to put some controls in".
He says the sentiment among those in the industry today is to come together and establish a guideline broadcasters can follow.
But some among the public want harsher action.
Puchong Koompru told BBC Thai that all the awards and prizes for press in Thailand should be taken away as a penalty.