North Korea releases Russian yacht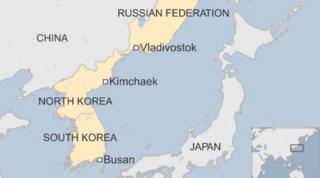 The crew of a Russian yacht detained by North Korea have been released, Russian state media says.
Five crew members were sailing in international waters in the Sea of Japan when they were seized by the North Korean coast guard on Friday.
North Korean officials said the detention, which saw the yacht towed into Kimchaek port, was a misunderstanding.
Russia is one of the few countries that has good ties with North Korea.
The yacht was intercepted on its way back to Russia from the South Korean port of Busan after North Korean fishermen spotted an image they believed to be South Korean, Russia's TASS news agency quoted the Russian consul general in Chongjin as saying.
The vessel departed for Vladivostok on Sunday morning.