There's a Bank Note of the Year award and New Zealand has won it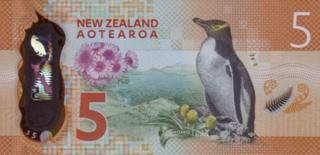 New Zealand's $5 note has won the prestigious Banknote of the Year award.
The note, which is actually printed in Canada, is an orange-brown colour with mountaineer Sir Edmund Hillary on the front and a penguin on the back.
The International Bank Note Society (IBNS), a group of currency enthusiasts who hand out the prize, said it was a "clear winner" for the 2015 contest.
The fiver beat banknotes from 20 other countries which were also released in 2015.
The Deputy Governor of the Reserve Bank of New Zealand was quoted in local media as saying that the international recognition for the note was "very special".
The $5 was one of a set of new banknotes issued by New Zealand in 2015, with enhanced security features and reflecting New Zealand's history and culture.
Also in the running for the prize, voted for by IBNS members, Sweden's 20 krona, Russia's 100 rouble, the 20,000 tenge note from Kazakhstan and the £5 banknote issued by Scotland's Clydesdale Bank.