Grace Taylor missing: Family of UK woman in Thailand appeal for help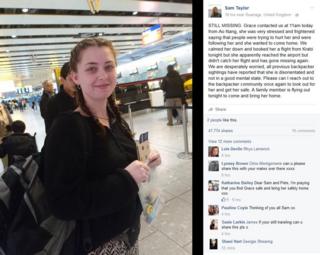 A 21-year-old woman from Swanage, Dorset is missing in south Thailand, according to her family, who have posted an online appeal for help.
Grace Taylor, who was backpacking, had been uncontactable since 16 February, her mother Sam Taylor said on Facebook.
The family filed a missing person report to Dorset Police on 21 February.
Then on 22 February, Ms Taylor contacted her family, who booked her a flight home, although her mother said she did not board the flight.
Sam Taylor said her daughter had called from Ao Nang in Krabi province.
Mrs Taylor said Grace Taylor was "very stressed and frightened saying that people were trying to hurt her and were following her and she wanted to come home".
She added that "all previous backpacker sightings have reported that she is disorientated and not in a good mental state".
She appealed to the backpacker community to help locate her daughter.
A member of the family is flying to Thailand to search for Ms Taylor and bring her home, she said.