Indonesian Tumblr users fear their 'internet is shrinking'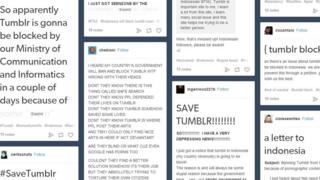 Indonesia's internet is starting to shrink.
That is the growing fear among Tumblr users in Indonesia after a minister told the BBC the government was blocking the blogging site over pornographic content.
On Thursday, the communications ministry appeared to backpedal, saying the ban was not yet in place, but that it was simply writing to Tumblr and 447 other sites asking them to stop allowing porn to be posted.
But the reports have still caused alarm.
"First it was gay emojis, now it's Tumblr. Take Facebook away from us next and we'll be living in the stone ages," commented a Tumblr user from Jakarta, referring to another recent row.
Another user said the authorities should "get their claws off our internet. The ban will only give the government power to act against the interests of Indonesians".
In Medan city, one user wrote: "This is getting out of hand. Why are we becoming like China?"
The news also spread among Indonesians on other social media platforms like Twitter and Facebook, who voiced unhappiness at being subjected to "paranoid censorship".
Strict laws already
Indonesia, one of the largest and most social media savvy countries in the world, has very strict anti-pornography laws and has seen a recent wave of online censorship.
Facebook and Twitter remain popular platforms, but Tumblr is favoured by many for allowing users to post lengthy updates as well for its strong community spirit.
Prominent Indonesian entertainment and lifestyle blogger HoneyBee, wrote in a note to her followers that while porn could be found on Tumblr, Indonesia was "already pretty strict" about it.
"I feel like my internet freedom is being taken one by one because of apparent porn, which I don't care for," she said, saying she may move her blogs elsewhere.
'Not just porn'
Art blogger Ray said he was worried about the impact on Indonesian artists. "Without platforms like it, it's hard to get our names out there when the industry is already so greatly under appreciated."
"We are part of this big community; aesthetic, personal and literary bloggers just like you," read another Tumblr note that was quickly re-blogged by other users.
"This ban is a big deal to us because our government thinks the only things we post here is porn."
Others said that the micro-blog served as a healthy medium for self-expression.
In a lengthy note titled, "A Letter to Indonesia", one user wrote: "Tumblr isn't the same as other blogging sites. Where else can one find inspiration and discussion among young adults? Without Tumblr, I wouldn't have a platform to connect to great people sharing the same hobbies and interests as me."
"Tumblr is a place that allows people to express their own preferences of interest," highlighted this user in a Tumblr note. "So there is no way anyone is going to take that freedom away from me."
"It's a site where you can finally be yourself and find new passions and inspirations," said another angry user.
"Blocking Tumblr is not the solution."
The ministry's statement on Thursday said it was asking Tumblr to adjust its content to fit Indonesian laws and social values.
It said it had written to Tumblr and other sites asking them to self-censor, and would make a decision after seeing what action the sites took.