Indonesian minister Kumolo donates 'illegal' stuffed animals after showing them on TV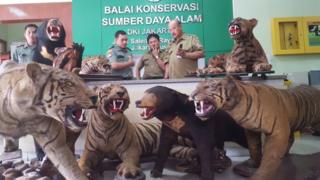 A government minister in Indonesia has given his collection of stuffed animals away after being accused of breaking the law by having them.
Indonesian law bans keeping endangered animals, whether dead or alive.
Cahyo Kumolo, the home affairs minister, proudly displayed his five stuffed Sumatra tigers and two Malayan sun bears during a televised tour of his home on 12 February.
There was a public outcry following the TV appearance.
Only 500-600 Sumatran tigers remain in the wild. Malayan sun bears are also rare; while there are no reliable figures for their population levels, they are classed as being "vulnerable".
The authorities say Mr Kumolo will not face punishment because he has surrendered his collection to the state. The stuffed animals are now being held by a conservation agency in Jakarta.