Fatima Surayya Bajia: Urdu novelist dies aged 85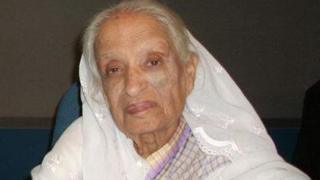 Renowned Urdu writer Fatima Surayya Bajia has died aged 85 in the Pakistani city of Karachi, after suffering what Pakistani media called a long illness.
She received awards at home and abroad for her work, which include popular radio and TV dramas.
She was born in India and moved with her family to Pakistan after independence from Britain.
Bajia did not have any formal education and did all her studies at home.
She was an ardent feminist and had also produced some children programmes, according to a website devoted to her. Her awards include Japan's highest civil prize.
Her brother Anwar Maqsood told Dawn "she not only left her family members but hundred of thousands of her fans to mourn the loss".
Tributes have poured in, including from Prime Minister Nawaz Sharif.
Mr Sharif said her death creates a huge vacuum in the country's literary circles that will be difficult to fill, his office said in a statement.
Her funeral is likely to take place on Thursday.