Nepal: Former PM Sushil Koirala dies of pneumonia at 77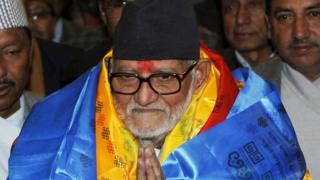 Nepal's former prime minister Sushil Koirala has died of pneumonia in Kathmandu, aged 77.
He was a member of one of the country's most powerful political families and a major architect of its controversial new constitution.
Minority groups have protested against the charter, saying it does not fairly represent their interests.
Mr Koirala stepped down as PM in October, a month after the new constitution was adopted.
The charter sought to aid Nepal's transition from a Hindu monarchy to a republic, and to help unify the impoverished country after a decade-long Maoist insurgency that ended in 2006.
But ethnic groups protested against the charter, mounting a border blockade that led to severe shortages of fuel and other supplies.
More than 50 people died in clashes linked to the demonstrations. The four-month blockade was lifted on Monday.
Why is Nepal's new constitution controversial?
Why India is concerned about Nepal's constitution
Mr Koirala had also suffered from bronchitis and other illnesses, his doctor told the AFP news agency.
Hundreds of officials, ministers and opposition politicians have paid their respects at Koirala's house and at the office of his Nepali Congress party.
A public holiday has been declared on Wednesday, when Mr Koirala's last rites will be held with full state honours.
His body will be kept at Kathmandu's national stadium to allow people pay their final respects.