Dhaka tea seller's death sees police officers suspended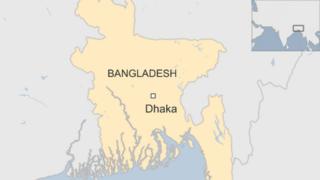 Five police officers have been suspended after the death of a tea vendor during an alleged extortion attempt in the Bangladeshi capital Dhaka.
It is alleged that an informer for the police set Babul Matubbar on fire when he refused to pay a bribe.
The incident has caused a huge public outcry in the country.
Police say the five officers are under investigation, and they will be sacked if it is found they were involved.
The family said Mr Matubbar was burnt when a kerosene stove was knocked over him during a scuffle in Dhaka on Wednesday. He suffered 90% burns and died the next day in hospital.
They say the officers involved did not help him get to hospital, and drove away instead.
Police have said Mr Matubbar was a drug dealer and he injured himself while trying to run away from an informer who visited his tea stall.
The chairman of the national human rights commission, Mizanur Rahman, said: "The state must ensure justice for this crime."