Vietnam's 'reluctant' leader warns of heavy workload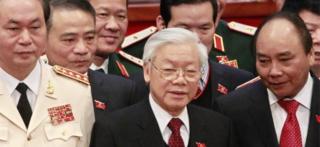 Vietnam's five-yearly congress has ended, with re-elected Communist Party chief Nguyen Phu Trong warning he faces a "heavy" workload.
Mr Trong said that at 71 he was too old and tired for what is essentially the country's top job, but he would perform his "duty".
He added that Vietnam would not end its one-party system, calling it "more democratic" than some other countries.
The new politburo which will govern for the next five years was also unveiled.
The closed-door meeting has been overshadowed by political infighting, which has seen reformist Prime Minister Nguyen Tan Dung ousted from the party leadership.
The politburo is made up of 19 people, who will make all political and economic decisions about the country of 93 million until the next congress in 2021.
Mr Trong told reporters he was "surprised" to have been re-elected by the party.
"My age is high, health is limited, knowledge is limited. I asked to step down, but because of the responsibility assigned by the party I have to perform my duty," he said.
He defended Vietnam's political system saying it was run by "collective leadership with accountability and responsibility of the individual, which can never become authoritarian".
"In a number of countries, in the name of democracy, all decisions are made by one person. So which is more democratic?"
Analysis: Jonathan Head, BBC News, Hanoi
Vietnam's economy is now deeply integrated into the global trading system; the export-led manufacturing boom has brought millions of jobs and raised living standards.
And for all the talk at this congress of keeping socialism at the heart of the economy, the re-structuring of inefficient state-owned industries will continue, though perhaps at a slower pace.
Asked whether Vietnam might move towards a multi-party political system, Mr Trong was emphatic - the communist party's monopoly on power was right for Vietnam, he said, and would continue.
How new leaders are chosen:
Delegates elect a new central committee
On one of the last days of the congress, the new central committee meets to select a politburo from among its ranks
From within the politburo a general secretary, prime minister and president are nominated
The general secretary needs approval from congress
The prime minister and president will be approved by the national assembly in about six months time - however this is normally just rubber stamping