Japanese journalist 'captive and threatened in Syria'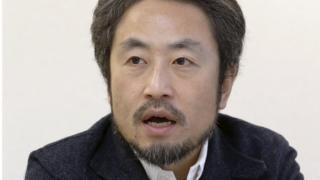 Japan says it is investigating reports that a Japanese freelance journalist is being held captive in Syria and is being threatened with death.
Rights group Reporters Without Borders (RSF) says Jumpei Yasuda has been held by an armed group in Syria since July.
His captors have threatened to kill him or sell him to another group unless a ransom is paid, RSF says.
The government would not confirm the report, but said it would do its utmost to ensure the safety of its citizens.
RSF did not name which armed group was reportedly holding Mr Yasuda, but said he was kidnapped in an area controlled by al-Nusra Front militants soon after entering Syria.
Al-Nusra Front is al-Qaeda's affiliate in Syria.
In a statement on Tuesday, RSF urged the Japanese government "to do everything possible" to ensure Mr Yasuda's release, and said all parties in the Syrian conflict should "stop taking journalists hostage for political or financial purposes".
Chief Cabinet Secretary Yoshihide Suga told journalists: "Given the nature of the matter, I would like to refrain from commenting on details."
"The safety of our citizens is an important responsibility of the government, so we are making every effort and making full use of various information networks," he said.
In January, militant group Islamic State killed two Japanese hostages - contractor Haruna Yukawa and freelance journalist Kenji Goto.
RSF said Mr Yasuda had wanted to cover stories including the killing of Mr Goto, who was his friend.