Sri Lanka man arrested 'for smuggling gold in rectum'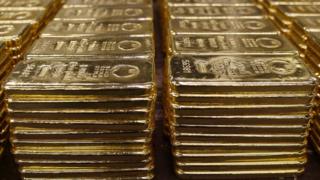 Sri Lankan authorities have arrested a man for allegedly trying to smuggle gold bars hidden in his rectum.
A Customs spokesman said officials found 400g of gold, worth about 2m Sri Lankan rupees (£9,351; $13,932), inside the suspect's rectal cavity.
Officers at Bandaranaike International Airport had noticed he was "walking suspiciously", the spokesman said.
The man, 42, said he worked for a Sri Lankan government ministry, though this has not been confirmed.
Spokesman Leslie Gamini told the BBC's Azzam Ameen in Colombo the man had been "finding it hard to walk".
More than 70 people have been arrested this year for smuggling gold in Sri Lanka, officials said.
Typically smugglers in the region buy gold in places like Dubai and Singapore, where the precious metal is relatively cheap, aiming to sell it on in India.