Shahadat Hossain: Bangladesh cricketer granted bail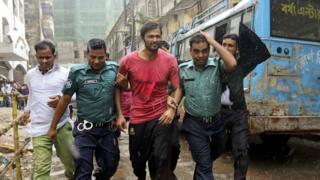 Bangladesh cricketer Shahadat Hossain was granted bail on Tuesday after being held for allegedly beating an 11-year-old maid, a lawyer said.
A Dhaka court bailed Hossain until 31 March, but deputy attorney general Moniruzzaman Kabir said his office would appeal, according to AFP agency.
Hossain handed himself into police on 5 October and has been in custody since.
He and his wife - who was granted bail last week - deny charges of employing and assaulting a minor.
"The High Court has accepted Shahadat's bail plea today after it was earlier rejected by the lower court," a representative of the alleged victim told AFP.
Hossain initially went to police on 6 September claiming that his maid had gone missing.
A maid was found alone in Dhaka later that day. She told police that Hossain and his wife, Nritto Shahadat, had beaten and tortured her.
Doctors said she had extensive injuries, including a broken leg and a black eye.