Myanmar landslide: 90 dead at Kachin jade mine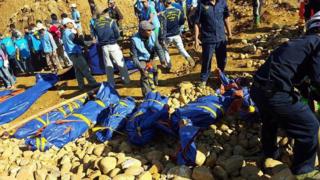 A landslide at a jade mine has killed at least 90 people in northern Myanmar, witnesses say.
The victims were buried when a vast heap of waste material, discarded by the mining companies, collapsed in Kachin state, Burmese media reported.
Many of the dead were scavengers living on or near the waste dumps, who search through the debris in the hope of finding fragments of jade to sell.
The state of Kachin produces some of the best jade in the world.
The landslide in Hpakant happened on Saturday, and there are reports of dozens more missing.
A huge rescue operation is underway with the Myanmar Red Cross, the army, police and local community groups all at the scene trying to dig people out of the earth.
The state-run Global New Light of Myanmar newspaper said that many of the dead were asleep in huts when the landslide happened.
"We are seeing only dead bodies and no one knows how many people live there," local official Nilar Myint told the AFP news agency. He said that only one person had been pulled alive from the rubble, but had died soon afterwards.
However their efforts have been hampered by bad weather.
It is unclear what caused the collapse of the heap of waste material.
Communications with this part of Kachin State are poor and details are hard to confirm.
In a report in October, advocacy group Global Witness said that the value of jade produced in 2014 alone was $31bn (£20.4bn) - the equivalent of nearly half the country's GDP - yet hardly any of the money is reaching ordinary people or state coffers.
Local people in mining areas accuse the mining industry of a series of abuses, including poor on-site health and safety and frequent land confiscations.
Many jade mining areas have been turned into a moon-like areas of environmental destruction as huge diggers churn the earth in search of the translucent green stones.