Bangladeshi academic Anisuzzaman gets death threat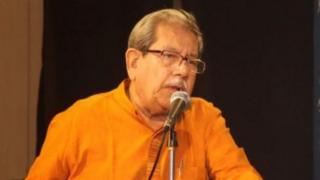 One of Bangladesh's most prominent academics, Professor Anisuzzaman, says he has received a death threat because of his support for secularists.
Five secularists have been killed. An Islamist group said they carried out the most recent attack on a publisher.
Professor Anisuzzaman told local media he filed a police complaint after received the threat in a text message.
He was one of several public figures who issued a statement urging the government to act on the murders.
It comes as the US issued a travel alert for Bangladesh, urging Americans to be cautious after the recent killings of two foreigners.
A Japanese man was shot dead last month and an Italian aid worker was also killed in Dhaka in September in attacks claimed by the Islamic State militant group.
"There is reliable information to suggest that terrorist attacks could occur against foreigners in Bangladesh, including against large gatherings of foreigners," the State Department said in the travel alert.
Anisuzzaman - known only by his surname and a professor of Bengali literature at the Dhaka University - told bdnews24.com that the death threat text message "asked in proper English why I support bloggers and if I wanted to die on being struck by machete".
---
Timeline: Attacks on bloggers and publishers