Nepal bans petrol sales for private cars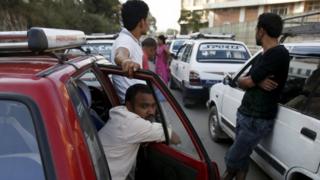 Nepal has stopped selling petrol to all private vehicles as it tries to tackle a fuel crisis brought about by opposition to its new constitution.
Officials say the ban will be in place for at least three days, but emergency vehicles will be exempt.
Protests in southern Nepal against the constitution have seen hundreds of fuel lorries from India stuck at the border.
Many Nepalese, however, have accused India of blocking supplies to show its disapproval of the document.
India denies the allegations.
"We brought the new restrictions so that the vehicles of essential services continue to get the fuel," said Gopal Bahadur Khadka, managing director of the Nepal Oil Corporation (NOC).
The NOC earlier said it was considering flying in fuel to the landlocked country.
Though a handful of Nepal-bound tankers are able to enter the country, the major border crossing used to transport almost 60% of fuel remains shut.
'Indian blockade'
Public anger towards India has been growing in Nepal.
KP Oli, a senior lawmaker tipped to be the next prime minister, has said India - rather than protesters on the border - is responsible for what he described as a blockade.
Delhi has denied the accusations and urged Nepal to defuse tensions over the constitution in its southern plains.
Clashes between police and protesters have seen more than 40 people killed in recent weeks.
Some ethnic minority groups are unhappy with the new constitution, which creates a federal system they fear will see them underrepresented in parliament.