Outrage over death of tame Sumatran elephant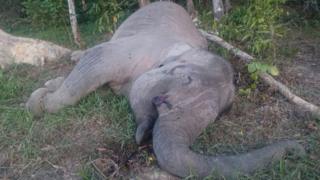 A critically endangered Sumatran elephant which worked on wildlife conservation projects in Sumatra, Indonesia, has been found killed.
Yongki, said by locals to have had a "friendly nature", worked with keepers to stop wild elephants destroying villages on the western island.
The 35-year-old elephant's body was found on Friday close to a camp in the national park where he lived.
His death has sparked an outpouring of grief and anger on social media.
'A good elephant'
The official cause of death is not known but his keepers said they suspected poisoning.
"He was a good elephant," Nazaruddin, head of the Indonesian Mahout Forum told AFP news agency.
He said keepers in the area were "very shaken".
"We are mourning the loss of an elephant who has been helping us in handling conflicts and helping forest rangers patrol the forest."
There are fewer than 3,000 Sumatran elephants left in the wild, and numbers have declined by 80% in less than 25 years, according to the World Wildlife Fund.
The environment organisation attributed the fall to habitat loss and conflict with humans, including an increase in ivory poaching.
#RIPYongsi
Thousands of people have used Twitter to express their anger over Yongki's death, using the hashtag #RIPYongki.
The backlash mirrored the global outcry over the killing a well-known lion named Cecil, shot by a US man in Zimbabwe earlier this year.
"I am truly ashamed to be human. We are sorry, Yongki - beautiful elephant," said Swedish Twitter user Salena Merrick in Stockholm.
"My heart is bleeding. The ivory trade needs to be banned worldwide," said another user.
Santi Sundari, an Indonesian Twitter user in Jakarta said: "Proof that humans are far more savage than the wild."
"I am about to cry reading this story. I curse those who did it," wrote Rhyiezkyanhy Dhiafakhri Ramadhan on the BBC Indonesian Facebook page.
Users on social media also called for the Indonesian authorities to take action against those responsible for Yongki's death.
"It is time we enforce life sentences for hunters of legally protected animals," said Facebook user Aprilia Putri.
Another Indonesian Facebook user, Susanne Iwanto in Medan said: "Friendly and well-known animal or not, how many more creatures have to die to satisfy ugly human greed? This has to stop now or it will be too late."