Into the River ban: Other controversial children's books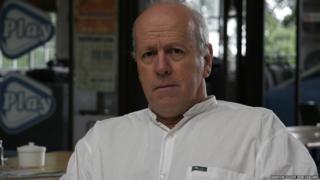 The Unity Bookshop in the New Zealand capital of Wellington was the site of a very civilised sort of protest on Thursday, when a group of people gathered outside to quietly read.
Their cause? The banning of Into the River, a teenage novel by New Zealand writer Ted Dawe about a Maori boy who faces bullying and racism and whose sexual encounters and experiences with drugs are described along the way.
Family First, a Conservative lobby group, objected to the novel's descriptions of sex and drug taking and New Zealand's Film and Literature Board of Review agreed, landing the title with an interim ban.
And so the book, which won top prize at the 2013 New Zealand Post Children's Book Awards, is now being pulled from libraries, schools, and bookshops around the country. Individuals caught distributing or exhibiting it face a fine of NZ$3,000 (£1,230), and companies NZ$10,000.
The small group of protestors in Wellington read Dawe's novel in plain sight, risking a fine for doing so, along with copies of other banned novels from history including Henry Miller's Tropic of Capricorn and JD Salinger's Catcher in the Rye.
Dawe now joins Salinger in a long list of authors whose novels for children or young adults have been banned or challenged. Here are some other cases from history.
Catcher in the Rye
Salinger's famous coming of age novel was banned and challenged in states across the US from 1960 to as recently as 2009. Among the reasons for bans and attempted bans were claims the book is "anti-white" (Ohio, 1963); "communist" (Washington, 1978); "centred around negative activity" (California, 1993); and simply a "filthy, filthy book" (South Carolina, 2001).
To Kill a Mockingbird
Harper Lee's tale of racism in 1930s Alabama has been included on school reading lists for decades but has never been far from controversy. It was banned in Minnesota in 1977 for its use of profanity and challenged frequently in the subsequent decades for its use of an offensive racial epithet. And it remains controversial to this day - sitting at 21 in a list of the 100 most frequently challenged books of 2000-2009.
Harry Potter
The Harry Potter titles have the dubious honour of being first on the list of most frequently challenged books of 2000-2009, up from number 48 in the previous decade. That may have as much to do with their number and popularity as their perceived offensiveness, but the titles have been frequently challenged and banned by schools around the world.
In 2000 a primary school in Kent banned its pupils from reading the series and 60 Christian schools in Australia did the same the following year. Religious schools in various US states have sought to ban the book over its occult themes and in 2002 people in New Mexico went as far as to stage a public burning of The Philosopher's Stone.
And Tango Makes Three
One of the more unusual reasons for banning a book - gay penguins. In 2014 Singapore authorities withdrew library copies of And Tango Makes Three, an illustrated children's book based on the real-life story of two male penguins who hatched an egg at the New York Zoo, on the grounds that it promoted homosexuality. The country's library board said in a statement that it takes "a pro-family and cautious approach" to children's books.
Anne Frank's Diary
An extended version of the world's most famous diary was in 2010 removed from the syllabus of a Virginia school system in the US after a parent complained that it featured sexually explicit material and homosexual themes.
Among the offending passages was a detailed description by the author of her genitalia which was not included in the original 1947 edition. In 2013 the same passage was accused of being "pornographic" by a mother in Michigan, who launched a formal complaint process to have the title banned but was unsuccessful.
Winnie the Pooh
Not the books, but the character of Winnie the Pooh was banned from a Polish playground in 2014 because of his "dubious sexuality" and "inappropriate" dress. The gentle bear was suggested as the face of a new play area in the small town of Tuszyn but was rejected by conservative councillors, one of whom accused the much-loved character of being a "hermaphrodite".
"The problem with that bear is it doesn't have a complete wardrobe," said Ryszard Cichy. "It is half naked which is wholly inappropriate for children."
Alice in Wonderland
It was talking animals that did for Lewis Carroll's much-loved 1865 novel, when in 1931 the governor of Hunan province in China said that it was "disastrous" to depict "animals and human beings on the same level" and promptly banned the book.
The adventure story had run afoul of censors as early as 1900, when it was suspended from classroom use at Woodsville High School in Haverhill, New Hampshire, because it contained expletives and sexual references. More recently it has been challenged in some US school districts by parents who feel the story encourages drug use.
Where's Wally
Or Where's Waldo in this case, as it was the US version of the famous children's book that offended with a glimpse of a woman's breast. Hard as that sliver of naked breast may have been to find even when trying - it is approximately the size of a single letter in this sentence - it was spotted by eagle-eyed Waldo-finders in Long Island, New York and banned. View below at your discretion.