Abdul Basit: Death row delay for Pakistan paraplegic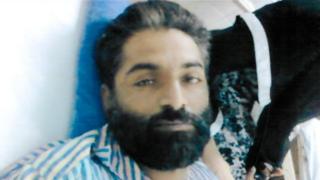 Pakistani prison officials have missed Tuesday's court deadline to explain how they would hang a paraplegic man.
Abdul Basit is paralysed from the waist down and uses a wheelchair after an illness he contracted while in prison.
He was convicted six years ago of murder but maintains his innocence. He was to be hanged in Lahore last month but this was postponed. A petition for his pardon was dismissed.
Hanging him would constitute cruel and degrading treatment, his lawyers say.
They add that this is prohibited under Pakistani and international law.
Pakistan has executed more than 200 people since reintroducing the death penalty in December 2014.
At the time the government said it was a measure to combat terrorism after the Taliban massacred more than 150 people, most of them children, in a Peshawar school.
Pakistan's jail manual gives no instructions on how to execute disabled prisoners.
A high court judge had told prison officials they had until 1 September to come up with specific steps if they were to be allowed to proceed with the execution of Mr Basit.
The BBC's Shaimaa Khalil says Mr Basit remains on death row but his sentence has effectively been stayed until the jail authorities come up with a clear plan for how they will execute him.
---
Executions around the world
Pakistan has executed more than 200 people since December 2014, almost all of them this year
Figures for executions in other countries in 2015 are as yet largely unavailable
In August, Amnesty International said Saudi Arabia had executed 102 people in the first six months of 2015, compared with 90 in the whole of 2014
By the end of last year, the other countries with the highest number of reported executions were Iran: 289, Iraq: 61, USA: 35, and Sudan: 23
In 2013 the numbers were: Iran: 369, Iraq: 169, Saudi Arabia: 79, Somalia: 68, USA: 39
China and North Korea refuse to divulge information on the number of executions that take place within their borders
Read more:
What is behind Pakistan's dramatic rise in executions?
The Pakistani hangman and his family tradition
---
Mr Basit was convicted six years ago of murder but maintains his innocence.
Since contracting tubercular meningitis in prison, he has been paralysed from the waist down.
His lawyers contend that he has already suffered "unusual punishment" and to hang him would constitute a form of "double punishment" which would be illegal.
"It's shocking that the Pakistani authorities are seeking to hang a paraplegic man - not least because it was the terrible conditions on death row that led to his illness and disability," Maya Foa of the charity Reprieve told the BBC.
"The fact that officials are prepared to hang Basit, without a clear protocol for doing so, shows they are even prepared to bend Pakistan's law to breaking point."
Last week Reprieve called for Pakistan to halt its "grisly experiment with the gallows" and urged the country's judges to enforce the rule of law.
Earlier this month, Pakistan executed a man convicted of killing a child in 2004, despite appeals from international human rights groups.
Lawyers for Shafqat Hussain said he was 14 when found guilty and his confession was extracted by torture.
Pakistan has the world's largest number of death row inmates, with more than 8,000 people reported to be awaiting execution, and it is on course to have one of the highest rates of executions in the world.