Myanmar floods: People 'should leave low-lying areas'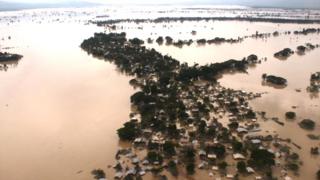 Myanmar's president has called for people to leave low-lying areas in the flood-hit country as the Irrawaddy river threatens to breach embankments.
The death toll from the floods and landslides caused by heavy monsoon rain has risen to 74 and affected more than 330,000, officials say.
Four areas have been declared disaster zones with widespread flooding.
The government, which admits being weak in its response to the disaster, has appealed for international aid.
In a message broadcast on radio early on Thursday, President Thein Sein said areas near the Irrawaddy were at risk as the river rises "above danger level" and water drains through the vast Irrawaddy delta.
"As we cannot prevent natural disasters, I urge fellow citizens to move to safer places... it's the best way," he said, adding Hinthada and Nyaung Don townships along the river were in immediate danger.
Many areas are still completely cut off by high waters or damaged roads.
Myanmar (also known as Burma) experiences flooding every monsoon season, but has been particularly badly hit this year.
Boat driver Than Naing said this year's monsoon was the worst in living memory.
"I have never seen anything like this. Every year it floods a bit, but not like this," he told the AFP news agency.
"My parents are about 70 years old, and they haven't seen floods like this before."
Relief pledges
The government has admitted its response to the disaster has been "limited", with flood warnings not reaching everyone, and confusion over evacuations.
Several countries have now pledged emergency relief assistance.
Australia has said it will contribute A$2m (£1m), and Japan pledged relief supplies worth 18m yen (£90,000), while a 10-member Chinese search-and-rescue team arrived in the country's largest city, Yangon (also known as Rangoon), on Tuesday to help with relief efforts.
The call for international aid stands in contrast to the stance in 2008 when Cyclone Nargis killed more than 130,000, but the military junta then in power refused outside help.