Syria crisis: Al-Nusra Front 'seizes US-backed rebels'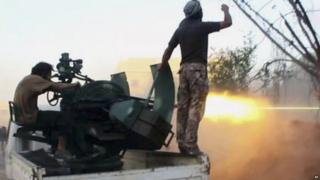 Syria's al-Qaeda affiliate, al-Nusra Front, has claimed to have captured a number of rebel fighters who were trained by the US.
A statement from the militant group warned others against taking part in "the American project".
Earlier reports said the leader of the so-called Division 30 and other members had been taken but this has been denied by the Pentagon.
On Friday, al-Nusra Front attacked Division 30's base in northern Syria.
Five of the group's fighters were killed and several more wounded in the clashes, Division 30 said in a statement.
Al-Nusra said some of its fighters were killed in US airstrikes against their positions near the city of Aleppo.
Its statement did not say how many Division 30 fighters had been captured, or when they were taken.
Division 30 were trained under a US-led programme to build a moderate force to fight the Islamic State group.
The Syrian conflict began with an uprising against the government, but that has since splintered, pitting rebel groups fighting President Assad's forces against one another.