Nepal: Landslides triggered by rain kill at least 29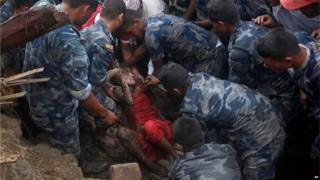 At least 29 people have been killed after torrential rain triggered landslides in western Nepal, officials say, with fears the toll could rise.
Dozens are missing in villages near Pokhara, more than 200km (124 miles) west of the capital Kathmandu.
Chief District Officer Krishna Bahadur Raut told BBC Nepali rescue teams were searching houses buried by landslides.
Annual monsoon rains often trigger landslides in Nepal's mountain areas and flooding in the south.
"One rescue team has already reached the affected area," Mr Raut said. "More teams are trying to reach the affected villages by removing landslides that have affected the Pokhara-Baglung highway."
In the village of Lumle - 15 km (9 miles) from the start of the Annapurna Circuit hiking route - about half of the homes were buried or destroyed by the torrent of mud and rocks.
Short on mechanical equipment, soldiers and policemen used shovels and food bowls to search for nine missing villagers in Lumle.
The rescue efforts were hampered by continuing rain.
About 100,000 tourists visit the area every year to walk the Annapurna route.
The risk of landslides during the current rainy season is higher than usual because of two powerful earthquakes in the region earlier this year which killed nearly 9,000 people.