Malik Ishaq: Pakistan Sunni militant chief killed by police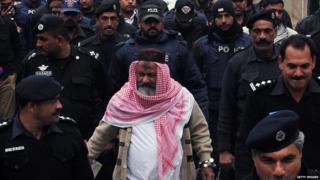 Pakistani police say they have shot dead Malik Ishaq, the leader of banned Sunni militant group Lashkar-e-Jhangvi.
Ishaq, who had been detained last week, was in a police convoy in Punjab province when supporters opened fire in an attempt to free him, said police.
They said Ishaq was killed in a gunfight along with his two sons and 11 militants in Muzaffargarh district.
Lashkar-e-Jhangvi (LeJ) has been behind some of the most violent attacks on Shia Muslims in recent years.
Punjab Home Minister Shuja Khanzada confirmed the news to AFP news agency, while a doctor at Muzaffargarh District Hospital said 14 bodies had been received there.
Six police officers were also reported injured but correspondents say the extent of their injuries is unclear.
---
Analysis: M Ilyas Khan, BBC News, Islamabad
The circumstances of Ishaq's killing are not clear, and many believe the gunfight may have been a "fake encounter", staged to kill a suspect who could be freed if taken to court.
Many believe his death signifies an emerging need in the Pakistani establishment to control sectarian killings.
The death comes as Pakistan is pushing for normalisation in Afghanistan and major Chinese funding for an economic corridor connecting China to the Arabian Sea.
He was wanted in hundreds of sectarian killings but government prosecutors always failed to bring sufficient evidence to get him convicted in a court.
The previous LeJ chief, Riaz Basra, was killed in a similar "encounter" with police in 2002.
---
Ishaq, his two sons and other alleged members of LeJ were taken into custody by the Counter Terrorism Department several days ago in connection with eight recent sectarian killings.
Late on Tuesday they were being led to Shahwala, on the outskirts of Muzaffargarh city, "where they (prisoners) said they had hidden a cache of arms and ammo", police said.
Police claim the group was attacked by 12-15 armed men in an attempt to free the prisoners. All of them were killed in the ensuing gunfight, they said.
Ishaq was in police custody for more than 13 years on over 70 charges of sectarian killings. He walked free in December 2014 after a decision by Lahore High Court.
LeJ was banned in Pakistan in 2001 and designated a terrorist group by the US in 2003. It has claimed the killings of hundreds of mainly Shia civilians in Pakistan.
---
Thwarted politician? Asif Farooqi, BBC Urdu, Islamabad
Malik Ishaq attempted to join mainstream politics following his release from jail four years ago - but was prevented by internal power struggles in the Ahle Sunnat Wal Jamaat (ASWJ) movement.
While still in jail, he had started consultations about becoming a member of parliament. ASWJ head Mohammad Ahmed Ludhianvi persuaded him to shun violence and pursue his anti-Shia agenda through political means.
Ishaq agreed and soon started taking part in the ASWJ's political activities. He had huge clout within the group and gained prominence within and outside the party in no time.
However, threatened by Malik's rise, Ludhianvi ostracised him and his followers, pushing them back towards their militant roots.
Malik was expelled from the ASWJ, taking with him the more violent elements of the organisation. There were bloody clashes between the Ludhianvi and Ishaq groups and both leaders escaped assassination attempts. Ultimately, Malik Ishaq was pushed back into Lashkar-e-Jhangvi and its militant agenda.
---